Alison Brie Says Training For Glow Helped Her Manage Her Body Dysmorphia and Depression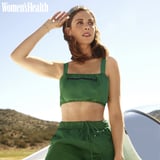 Mental health and physical health often go hand in hand, and Alison Brie revealed how managing both has improved her well-being and self-image. In a recent interview with Women's Health, Brie opened up about her struggles with depression and body dysmorphia, and mentioned that working on Netflix's Glow, which highlights the lives of female wrestlers in the '80s, has helped her to take better care of herself on and off camera.
"[Training for Glow] took the motivation out of being skinny for Hollywood standards and made it about being strong for lifting other women, literally. There was a real goal," Brie said. In addition to looking and feeling strong, Brie said that her workouts and trainings help her to deal with her personal mental struggles.
Brie explained that mental illness runs in her family. "The rest of my family then dealt with the trickle-down effects of trauma," she said. "And that meant depression more than anything . . . When I've been in a really serious depression, I'll drag myself to a yoga class - even if I don't want to be around people - tears streaming down my face. But, get in class, get out of your head, get blood flowing. It ends up helping eventually."
"You can pack a lot of muscle into a lean little body."
Brie went on to explain that seeing her body as useful, rather than just aesthetic, helped her to develop a stronger self-image. "Being small was a side effect of being super fit and muscular," Alison said without missing a beat. "I like to lead the charge against people thinking that strength training makes women bulky. Jason [Walsh] uses my body as an example at the gym, because I can lift more than a lot of people. You can pack a lot of muscle into a lean little body."
Today, the Horse Girl star trains six days a week, three in the gym and three hiking or riding her Peloton bike. When she's working with her trainer, Jason Walsh, she often focuses on "primitive movements" in her workouts, which include warming up by crawling or rolling, performing trap bar deadlifts, pushing and pulling a heavy sled, and doing lunge presses or squats with a FitFighter (steel hose) in hand. She also follows a specific diet to keep her mental state balanced. If she's preparing for a new season of Glow, she'll follow a low-carb, high-protein diet, but if she's not, she tends to stick to eating vegan or vegetarian. Brie also credits "open communication" with her husband Dave Franco as a huge contributing factor to her mental health.
"I'm so lucky I'm married to a really wonderful, open person," she said. "We have great lines of communication, and I can talk often about my feelings . . . It's been funny talking to him about [body dysmorphia]. He said, 'Before I knew you, I'm not sure I believed body dysmorphia was a real thing. It's so interesting to me what you see - and what I'm seeing when I'm looking at you - and the frank discussions we have about it.'"
Though Brie still deals with body dysmorphia and depression every day, she has a more positive outlook on herself and her body. "I go back to red carpet photos where I thought I looked so horrible, and there are some where I now think, 'God, I looked beautiful.' And I'll remember: an hour before that I was in tears," she said. "I thought I was so disgusting. I think it's something I'll probably be working through my whole life. And depression, too."
Source: https://ift.tt/34IzMc9