I'm Positively Mesmerized by This Family's At-Home Cirque du Soleil Performance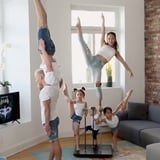 The Atherton family majorly upped the ante for living-room dance parties during Sunday night's Stronger Together, Tous Ensemble Canadian broadcast benefit. The group of talented dancers - composed of Cirque du Soleil artists Kevin, Andrew, and Gasya Atherton and their kids - teamed up to share a mesmerizing at-home performance for the live-streamed fundraiser event, which was held to honor coronavirus front-line workers and fundraise for Food Banks Canada.
To kick things off, identical twins Kevin and Andrew joined forces to fluidly nail various acrobatic moves in tandem, and Gasya (Andrew's wife) hand-balanced on stilts with her daughter, Kamali, casually clinging to her back. Their grand-finale move was by far the cutest and most impressive, though. Gasya was carefully standing atop a stilt with her son and daughter doing leg holds nearby when Kevin's baby son, Luca, attempted to do his very own leg hold (keyword: attempted). Watch the Atherton family crush their entire routine above - in matching outfits and jeans, no less.
Source: https://ift.tt/2W19DBI