Sing and Sweat Along to This Full-Body Workout Set to "Intentions" by Justin Bieber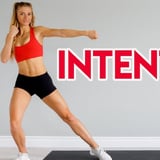 One of our favorite fitness influencers on YouTube, Maddie Lymburner (aka MadFit), is back with another home workout set to a hit song that makes us want to move. Following her ab routine, where you bicycle and side plank along to "Yummy," we have a full-body session choreographed to "Intentions" by Justin Bieber, featuring Quavo. We dare you not to sing along!
In the video, Lymburner moves through repeated rounds of squat pulses and side punches that follow the beat, and she gets down on the floor for seated single-leg knee tucks, quick bicycle crunches, and plank jacks, among other exercises. One part that looks particularly fun is a series of backward lunges with some claps in between. The workout is the length of the song, which lasts about three minutes.
If you are looking for home workouts from certified trainers specifically, check out these YouTube channels we recommend. And, if you haven't gotten your "Intentions" fix yet, try this dance cardio routine from The Fitness Marshall. Get to it!
Source: https://ift.tt/2QZayk6