These Low-Sugar, Protein-Packed Vegan Waffles Are Sweet, Soft, and Satisfying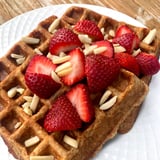 Dust off the ol' waffle maker and whip up a batch of these hearty, protein-packed vegan waffles. Soft and fluffy on the inside and slightly crispy on the outside, these waffles have no milk, butter, or eggs.
These waffles are made with healthy, filling, and nutritious ingredients like whole-wheat flour, flaxmeal, and hemp seeds. The added vanilla protein powder makes these so satiating, but I promise there's no chalky aftertaste. With two tablespoons of maple syrup added to the batter, I found these waffles were sweet enough topped with some fresh fruit, but they'd also be amazing with a smear of nut butter. Each waffle has just 5.7 grams of sugar. Of course the maple syrup police won't be at your house, so go ahead and drizzle some on - they are waffles, after all!
One waffle offers almost 20 percent of your daily calcium, 10 percent of your daily potassium, and eight percent of your daily iron. Not bad for a waffle! This recipe makes six waffles, and at 130 calories per waffle, 3.7 grams of fat, 17.6 grams of carbs, and 2.4 grams of fiber, you could enjoy one or two at any time of the day - not just on Sunday brunch! Then freeze the rest to enjoy later that week.
Vegan Whole Wheat Protein Waffles
from Jenny Sugar
Ingredients
2 tablespoons ground flax seed
6 tablespoon water
1 1/2 cups white whole wheat flour
1/2 cup vanilla plant-based protein powder (about 2 servings)
1 tablespoon hemp seeds
1 tablespoon plus 1 teaspoon baking powder
1/2 teaspoon salt
2 cups almond or soy milk
1/3 cup applesauce
2 tablespoons maple syrup
1/2 teaspoon cinnamon
Directions
Combine flaxmeal and water in a small bowl and set aside.
In a measuring cup, mix together almond milk and apple cider vinegar and set aside.
In a medium bowl, mix flour, protein powder, baking powder, salt, and sugar.
Preheat your waffle iron.
Add flax mixture to almond milk mixture. Mix in applesauce and vanilla.
Add flour mixture to the mixture and mix well, until a few lumps remain.
Spray your waffle iron with a little oil spray and cook waffles according to your waffle maker's instructions.
Enjoy right away with some fresh fruit, nut butter, dairy-free yogurt, or a drizzle of maple syrup. Store any cooled waffles in an air-tight container in the fridge or freeze them to enjoy later.
Here's the nutritional information for one plain waffle:
Information
Category

Breakfast/Brunch, Pancakes/Waffles

Yield

6 waffles
Source: https://ift.tt/2wJZnFj