A Guide to Every Swim Stroke You'll See at Next Year's Summer Olympics in Tokyo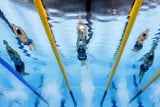 There's no doubt swimming is one of the most exciting events at the Summer Olympics. But while tuning in to see who will take home the gold, do you ever wonder exactly what it is that you're watching? Sure, the freestyle seems pretty straightforward, but which muscles are challenged to execute the stroke perfectly? How is the butterfly different from the breaststroke? And what on earth is the individual medley?
POPSUGAR spoke with Jennifer Latchford, a former swim instructor for the Bergen Barracudas and the Goldfish Swim School in New Jersey, to help us break down every stroke. Now you can watch these edge-of-your-seat events at the Tokyo Games next year like a true fan. Keep reading for the details!
Source: https://ift.tt/3cdvpJo