22 LGBTQ+ Athletes Who Are Speaking Out and Leading the Way - in Sports and Beyond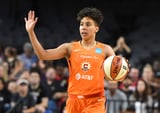 There is so much potential for sports to unite us - you can see it after a home run drops over the fence, or a last-minute goal hits the back of the net, or a marathon finish line is crossed - but the truth is that athletic institutions and communities have long fallen short when it comes to inclusion. That goes for LGBTQ+ athletes, many of whom have found themselves silenced or forced to hide their identities in an environment that has often felt closed-off and discriminatory.
We have a long way to go, but despite everything, progress is being made. And it's pretty clear who we have to thank for it: athletes who identify as LGBTQ+ and are using their platforms to amplify the voices of their community. Of course, no one - and that includes athletes, celebrities, and other public figures - is ever obligated to come out, especially when doing so could threaten their physical or financial well-being. But for every LGBTQ+ athlete who does choose to share their sexuality, the sports world becomes that much more open and inclusive for those who follow. These 22 LGBTQ+ athletes are actively breaking down boundaries and leading by example, and we're proud to look up to them during Pride Month and all year round.
Source: https://ift.tt/2MtvFbE