9 Podcasts That Interrogate Race in the Running Community, Featuring Female Athletes of Color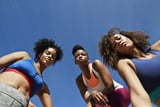 Running is a sport that's accessible and open to people of different physical abilities, races, genders, sexual orientations, and body types - anyone (yes, anyone) can run. But that doesn't mean the running community has always been as inclusive as it can and should be, a shortcoming that all runners need to reconcile with and actively work to change. For many, the first step is educating yourself and learning to listen.
The work is ongoing when it comes to race in the running community, but it's being done every day by Black, indigenous, and people of color (BIPOC) who run, coach, lead, and speak out to create change. Below, you'll find a small sampling of podcasts addressing the issues around race in the running and outdoor communities, and featuring female runners of color who are leading the way to inclusivity. Play one on your next run, listen up, and get informed. When you're done, here are more ways you can support racial justice from home.
Source: https://ift.tt/2XDiETA