Welcome Summer Sweat Sessions With These 13 Nike Workout Pieces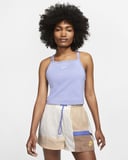 Yesterday I went out for a run in a pair of thicker leggings, and immediately regretted my decision. The weather is warming up so much that even wearing a long sleeved t-shirt feels like too much. When we're moving, we want to be in shorts, sports bras, and lightweight fabrics. Thankfully, Nike makes a bunch of cute clothes that were designed just for summer sweat sessions, 13 to be exact.
From sports bras that double as crop tops to breathable shorts, these are the clothes you want to work out in. Whether you're going on a walk outside or getting in a HIIT session, you'll want to do it in these breathable styles. Just keep reading to shop our picks!
Source: https://ift.tt/2XOTrp8