Light Up Your Abs Like Dynamite With This 3-Minute BTS Cardio Workout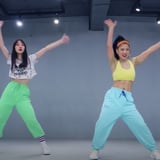 "Dynamite" came out last week and (I'm not exaggerating) I haven't stopped singing it since. One listen lodges this perfect-for-summer BTS song in your head, so you might as well make the best of it and get a workout in at the same time! That's where this three-and-a-half minute cardio routine from Mylee Dance comes in. The fitness YouTuber and choreographer lays out the perfect moves to this BTS beat, so smooth you won't even realize that you're doing squats and hip thrusts until you feel your core at the end.
The choreography moves fast, so you might need a few run-throughs to get it down, but hey - more reps means more sweat, and that's why we're here. Bonus: Mylee even incorporates some of BTS's original choreography, so if worst comes to worst, just channel J-Hope and keep grooving. Check out the full routine above and try it out for yourself for some quick cardio!
via
POPSUGAR Fitness