7 Fall Superfoods That May Help Boost Your Immunity During Cold and Flu Season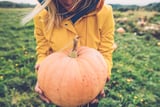 When kids start going back to school and the weather begins to change, we know fall is right around the corner. While the emergence of autumn brings many favorites like pumpkin spice lattes and cozy sweaters, it also signals the start of flu season, and data suggests the cooler temperatures are also associated with an increase in other infections, like the common cold.
While there's no magic food that will guarantee a sick-free fall, there are some foods that are loaded with nutrients to help keep your immune system strong. Here, you'll find seven fall favorites that certainly won't hurt your chances of staying healthy this cold and flu season. Just remember to take other steps to keep yourself in fighting shape, including getting quality sleep, incorporating moderate exercise into your routine, and properly washing your hands.
via
POPSUGAR Fitness