From Beyoncé to Rihanna, We're "Crazy in Love" With This 2000s Dance Cardio Workout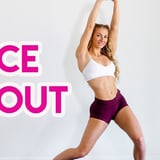 The 2000s had many things (questionable fashion trends! The best Disney Channel Original movies!), but top-tier pop music is what really defines this era in our minds. And if you're ready to take a trip down memory lane and get a quick sweat session in at the same time, look no further than this gem of a dance cardio workout from Maddie Lymburner, aka the fitness YouTuber behind MadFit.
This 15-minute dance workout starts (of course) with "Crazy in Love" by Beyoncé and Jay-Z, a true 2000s anthem, segues into "Buttons" by the Pussycat Dolls and "Yeah" by Usher (again, iconic), and closes out with "Don't Stop the Music" by Rihanna. In between beginner-friendly dance moves, Lymburner mixes in squats, punches, lunges, and other simple but effective bodyweight moves. Check out the full workout above for a fast and fun blast of cardio!
via
POPSUGAR Fitness