"I'm Capable of Anything": Chromat's "Joy Run" Fashion Week Film Celebrates Trans Athletes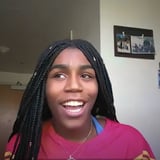 New York Fashion Week went virtual this year and bodywear company Chromat took the opportunity to produce a striking short film entitled "Joy Run," directed by activist and filmmaker Tourmaline. Chromat has long been a leader in the fashion industry, known for pushing forward cultural conversations and promoting inclusivity, which means this film does much more than highlight their new collection with Reebok. The main focus: telling the stories of two trans athletes, Andraya Yearwood and Terry Miller.
The young track stars made headlines in 2018 when Connecticut parents petitioned to ban them from girls' high school sports. Since then, the petition has become a lawsuit, looking to overturn a Connecticut law that allows high school transgender athletes to compete under their gender identity. The fight has made Yearwood and Miller into advocates for transgender rights, both on and off the track.
This video, which also features ACLU lawyer and trans advocate Chase Strangio, celebrates Miller and Yearwood's accomplishments and determination, allowing them to tell their stories - and address their detractors - in their own words. "I personally don't feel that one would choose to go through all that we go through with transitioning solely to win a few medals," Yearwood said.
"They're making it seem like we're the only two transgender athletes ever, in the whole world," Miller added. "And we're not. It's just that we speak up and we stand up for ourselves, which is important." She never expected to become a role model, she said, but now she hopes that when other trans people see her speaking up, "it'll really inspire them to do the same." Educating others is also crucial, according to Yearwood. "If we are not going to, then who will?"
As much as their struggles have been publicized, the video also showcases their irrepressible joy and love for sport. "We had to fight for our womanhood, and I like that," Miller said.
"I think Terry and I are my favorite athletes," Yearwood added. "Our trans-ness is the best thing in the world because it makes us who we are."
via
POPSUGAR Fitness