Rock and Squat Your Way Through This TikTok Cardio Workout Video - It's a Dance Party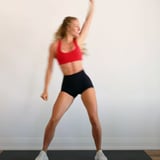 Back in June, fitness YouTuber Maddie Lymburner came out with a 15-minute dance cardio workout set to eight songs popularized by TikTok users at the time. Now, she's gracing us with a part two, also 15 minutes long, and you need zero equipment (just your beautiful self!). Lymburner includes dances originating on the app, and she even sneaks in different squats and lunges, along with punches for an extra cardio burst.
"You guys have been very vocal about getting a part two to the TikTok dance series," Lymburner wrote in the YouTube comments. "I hope you guys enjoy this one." The songs in the workout are "Blueberry Faygo" by Lil Mosey; "Savage Love" by Jawsh 685 and Jason Derulo; "Stunnin'" by Curtis Waters, featuring Harm Franklin; DaBaby's "Rockstar," featuring Roddy Ricch, and more. This promises to make you sweat, and it'll surely make you smile too.
via
POPSUGAR Fitness