This Trainer's 4-Week Workout Plan Will Get You in the Best Shape of Your Life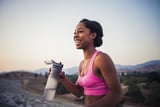 If your resolve to start working out has been in hibernation - or you're just unsure what to do to keep getting results - this month-long plan can help you feel stronger, more confident, and reenergized. The workouts, created by Raphael Konforti, MS, an ACE- and NASM-certified trainer and national head of fitness education for Youfit Health Clubs, follow a consistent pattern. You'll start each week with a full-body workout, devote your strength-training days to specific muscle groups (like your legs and core), and round out your routine with one day of interval training. There are two recovery days each week, including an active recovery day, during which you'll soothe those tired muscles with yoga.
Though the workouts get harder as the month goes on, each one takes roughly 30 minutes, and you only need dumbbells and a yoga mat to follow along. Let's get started.
via
POPSUGAR Fitness