This Is Not a Trick! These Healthy Snickers Are Vegan, Gluten-Free, and Easy to Make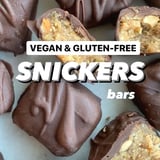 Halloween can be a little sad if you're vegan or gluten-free, since you can't enjoy a lot of the candy everyone else is. If you're missing Snickers bars and craving that chewy, peanuty, chocolaty goodness, make your own with this six-ingredient recipe from Samah Dada, a recipe developer and creator of the Dada Eats blog and cooking host on The Today Show.
The filling of these healthier Snickers bars is sweetened with dates and made with other whole-food ingredients like creamy peanut butter, unsweetened shredded coconut, crushed salted peanuts, and almond flour. Envelope that in vegan dark chocolate, and this no-bake treat is going to make your Halloween so spookily scrumptious, you'll scream! Check out her Instagram post for the Snickers recipe.
via
POPSUGAR Fitness