We Bet You'll Smash Your Next Workout With These High-Energy Blackpink Songs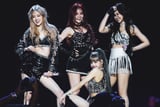 Whether you've been a Blackpink superfan since the beginning or you've just discovered their badassery times four thanks to the new Netflix documentary highlighting their worldwide success, there's something so empowering about the group - and the high-energy hits they record. And if you ask us, that's a great recipe to power through workouts: fast beats and a fierce attitude.
If you're ready to train to Blackpink, check out the 44-minute playlist ahead on Spotify, as well as the individual songs on YouTube. You'll find early tunes like "Whistle" and "Boombayah," along with new tracks such as "Ice Cream," the group's collab with Selena Gomez. What are you waiting for? We've already beat you to it and pressed play! Plus, you might like this BTS workout playlist and a list of K-pop songs for your next sweat session, too.
via
POPSUGAR Fitness