The court of public opinion that is Twitter can make or break just about anybody, fast-food giants included. Whether they're being praised for their latest product launches or criticized over the latest ad campaign, fast-food chains provoke some of the strongest reactions, both good and bad, on social media.
The team at RAVE Reviews, a product review platform, decided to use Tweets about the most popular fast-food chains around the world to find out how they stack up against each other in terms of their online reputation. They used language analysis tool SentiStrength to examine over a million tweets and composed a list of the most hated fast-food chains in the world, based on negative sentiments consumers have expressed about them.
RELATED: 5 Major Fast-Food Chains Falling Out of Favor With Customers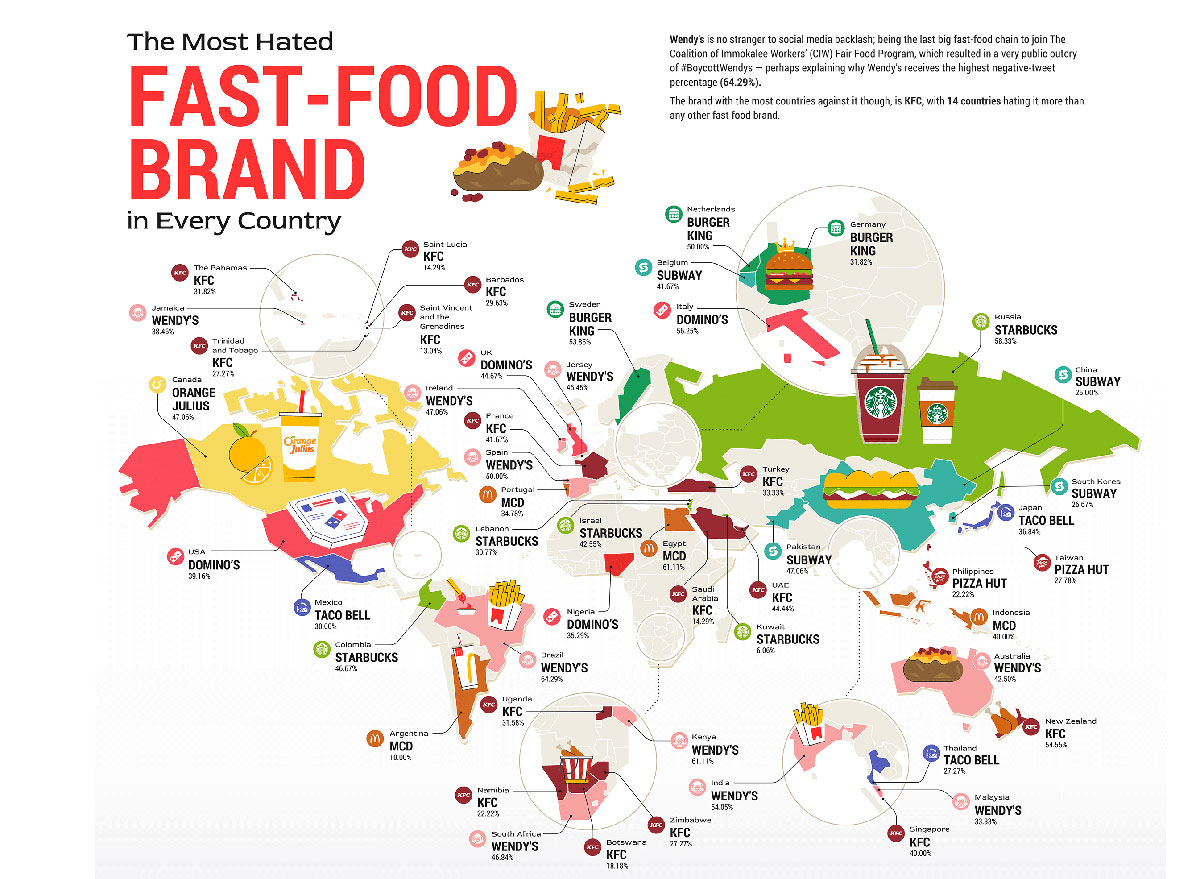 According to their analysis, McDonald's, Subway, Starbucks, and Wendy's were all found to be the most hated fast-food chain in several countries. But none of them hold a candle to KFC, which was the most hated brand in as many as 14 countries, and took the cake as the #1 most hated fast-food brand in the world.
New Zealand, United Arab Emirates, France, Singapore, and Turkey were countries with the highest "hate rate" for KFC. So what were KFC customers around the world complaining about? The quality of the chain's food, mostly.
Every time I eat KFC, I feel v sick afterwards, and I just want to know why god, what did I do to deserve this? :/

— Aadi Nair (@HulkEatSkittles) September 19, 2021
the worst decision I made today was having that nasty a** kfc for lunch

— joseph(taylors version) (@joeee1993) September 21, 2021
WTF HOW DID KFC MAKE A COOKIE GROSS, WTF MAN, HOW DO YOU MESS UP CHOCOLATE CHIP COOKIES????

— Ash ceo of stupid shit (@FloofyLover) September 21, 2021
Interestingly, when it comes to the United States, a different brand altogether won the title of most hated. And surprisingly, it was the pizza powerhouse Domino's. Yup, Americans took to Twitter to criticize Domino's more than any other fast-food brand, and expressed negative sentiments about it in as many as 40% of all Tweets directed at the company, according to Blake Adams, researcher at RAVE Reviews.
The chain was getting flak for its subpar customer service, issues with delivery, and food items missing from orders, among other things.
It's been two days. Still no pizza or money back from @dominos. Have officially decided to boycott and never buy from them again #boycottdominospizza

— lín. (@dorachapiadora) June 1, 2021
Looks like @dominos is now in the scamming business. First they make me wait for an hour after issuing a notification that the pizza is out for delivery. Then while I continuously track, they update the order to delivered without actually delivering the order.

— Rithika Deenamsetty (@d_rithika) September 20, 2021
@dominos just lost me as a customer come on you see that small piece of a wing where is the rest of it. How y'all count that as a whole piece of chicken. Then the food is cold. SMH dominos at 886 Dekalb Ave in brooklyn… pic.twitter.com/Wv3ZEQZnab

— OfficialDJEpidemik (@DJEpidemik) August 19, 2021
Meanwhile, Burger King can breathe a major sigh of relief—the brand no longer holds this unenviable title, which it had as recently as late last year.
For more, check out:
And don't forget to sign up for our newsletter to get the latest restaurant news delivered straight to your inbox.
The post This Is the Most Hated Fast-Food Chain In the World, New Data Shows appeared first on Eat This Not That.
Eat This Not That