Whether swinging through McDonald's for breakfast is a rare treat or a weekly occurrence, you probably order the same go-to you've had for years. There's a whole world of tempting offerings on the breakfast list, but it can be scary to try something new.
To help you out, we put eight of the McDonald's breakfast items to the test. A couple of items blew our socks off, while a few were total flops. Just so we're clear, though, a side of hash browns is imperative regardless of which sandwich you order.
Here are our rankings of McDonald's breakfast offerings, from the ones we'd pass on to the ones we'd definitely order again. And for more, don't miss these 15 Classic American Desserts That Deserve a Comeback.
Hot 'n Spicy McChicken Biscuit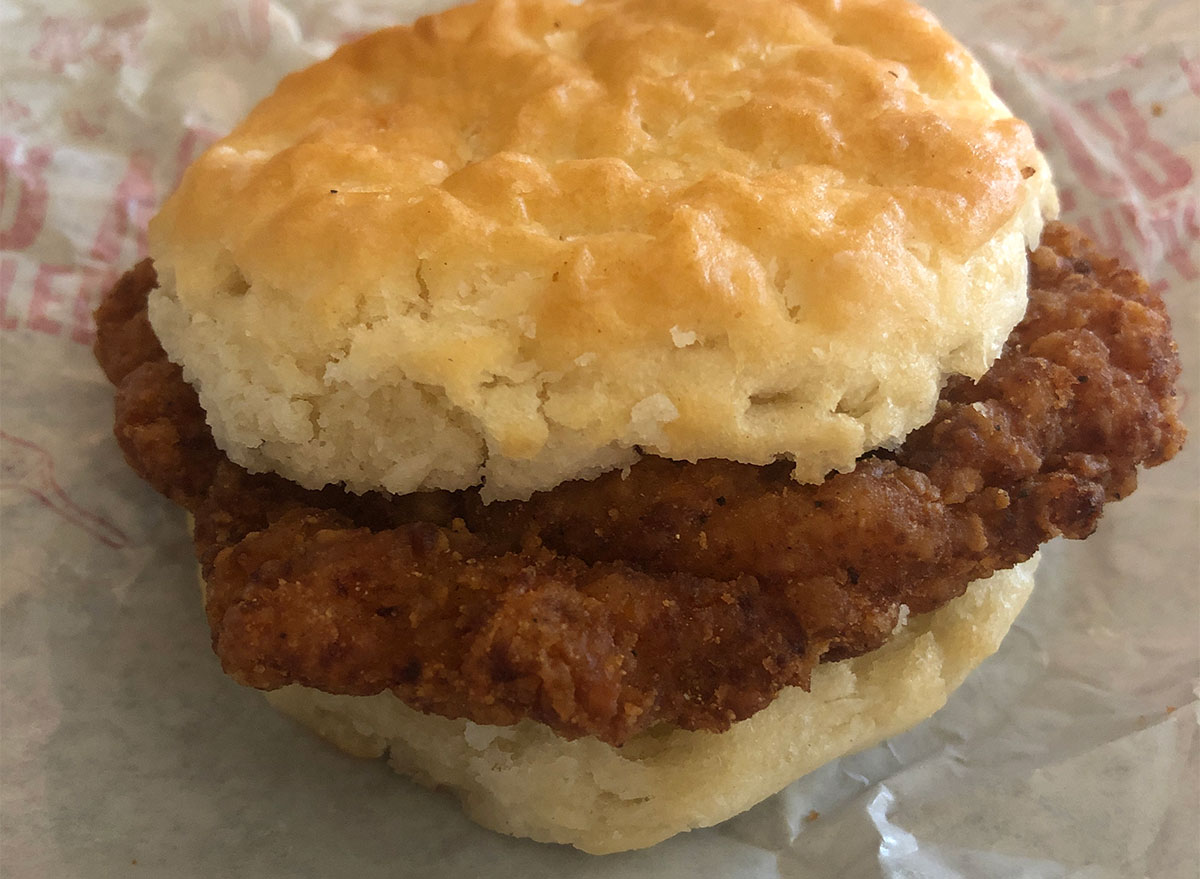 My husband, Jon, who taste-tested all of these items with me, succinctly pointed out that this sandwich is not worth it. The biscuit is good, but the fried chicken is dry, thin, and scratchy. A little bit of honey or jam might have helped, but I say to skip this one.
RELATED: Sign up for our newsletter to get daily recipes and food news in your inbox!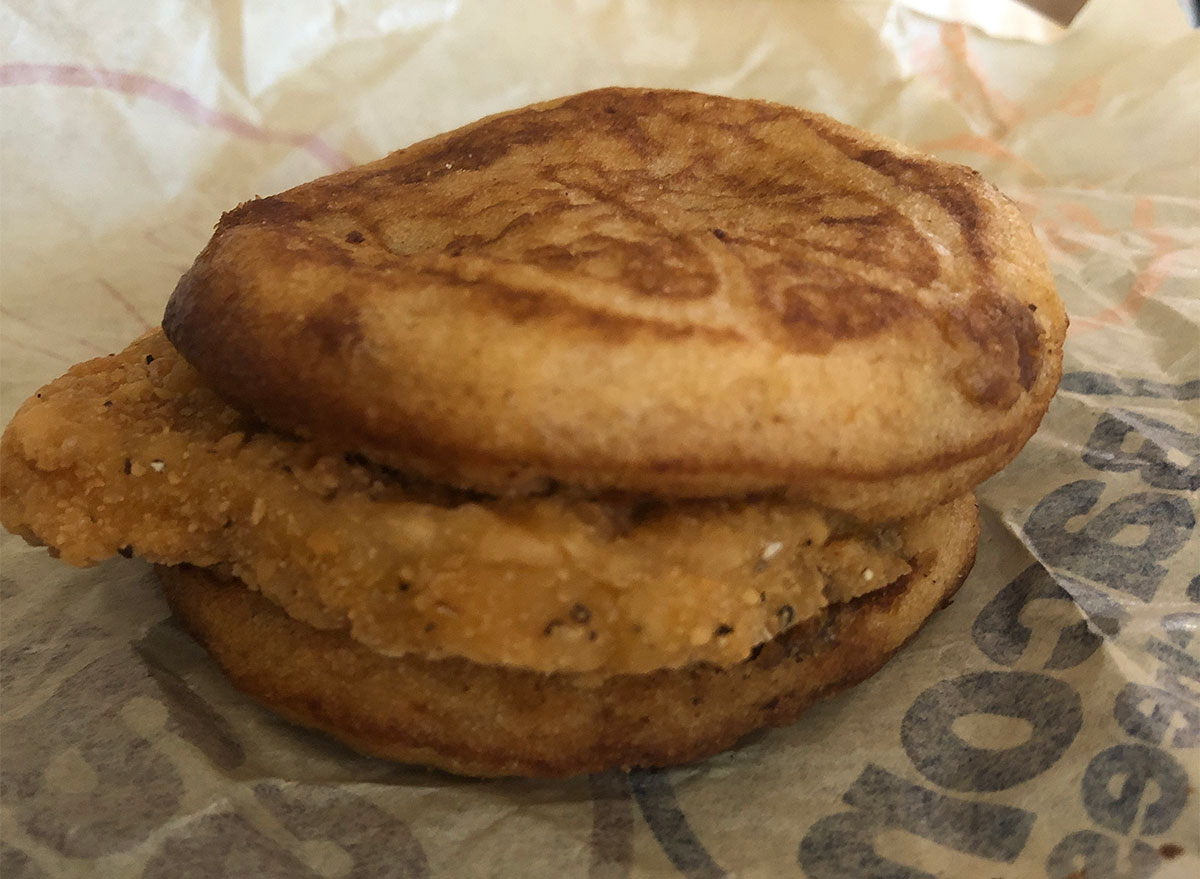 The scent of the "maple syrup"-infused griddle cakes is quick to hit your nose when you unwrap this sandwich, but even the moist griddle cakes aren't enough to save the dry chicken here. The chicken is nicely seasoned, which is this sandwich's saving grace. The sweet griddle cakes and chicken spices are a thrill at 9 am, but overall, it's a dissatisfying package.
RELATED: The Best Breakfast Sandwich in Every State
While the sausage burrito (with mild Picante sauce) wasn't a smash hit in our household, I do acknowledge that it's a great budget option, and it's super easy to eat on the go. If you're hitting the road and need to eat something easily with one hand, this burrito is here for you.
RELATED: The Best Spot to Get a Burrito in Every State
Bacon, Egg, and Cheese Biscuit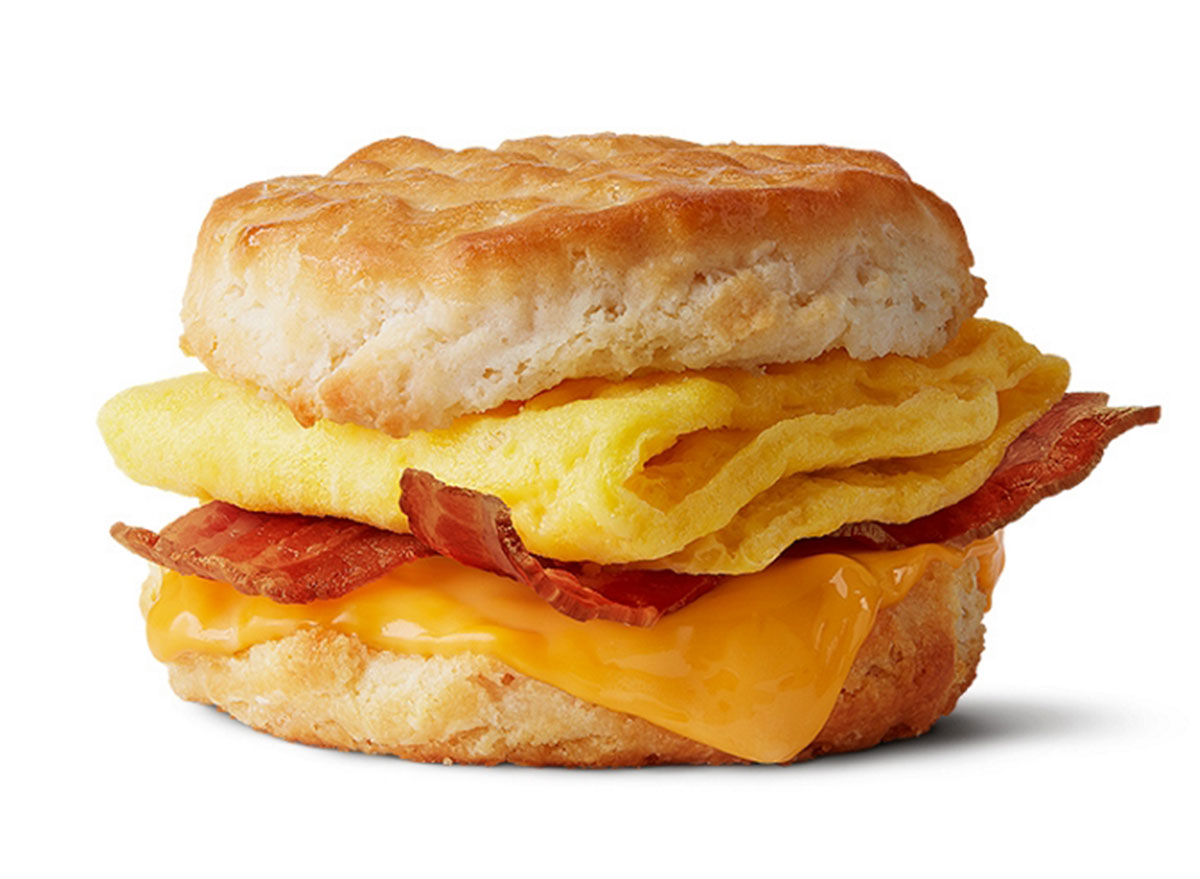 Sinking your teeth into the BEC biscuit is delightful. The eggs taste like they were made in a fast-food joint (which, they were), but they're fluffy enough to make you forget. The bacon was crispy enough, too. Overall, it's a solid choice.
RELATED: The Best & Worst Bacon Brands—Ranked!
Sausage and Cheese Biscuit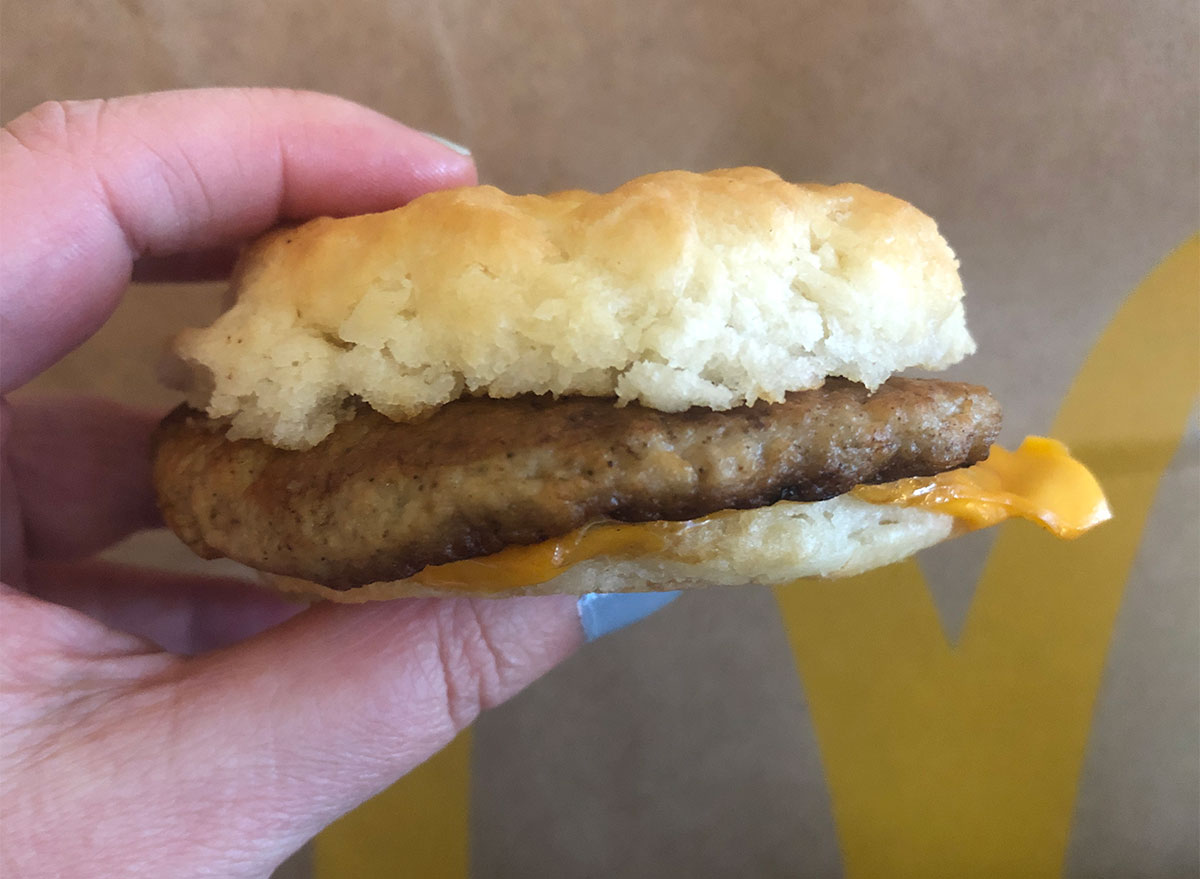 Now we're talking. The fluffy biscuit (seriously, how are McDonald's biscuits so good?) and a well-seasoned, moist sausage patty are a dream team. My only regret is not realizing that there was grape jelly in the bag until it was too late. Consider using that to cut through the spice.
RELATED: McDonald's Is Releasing These 50 Nostalgic Happy Meal Toys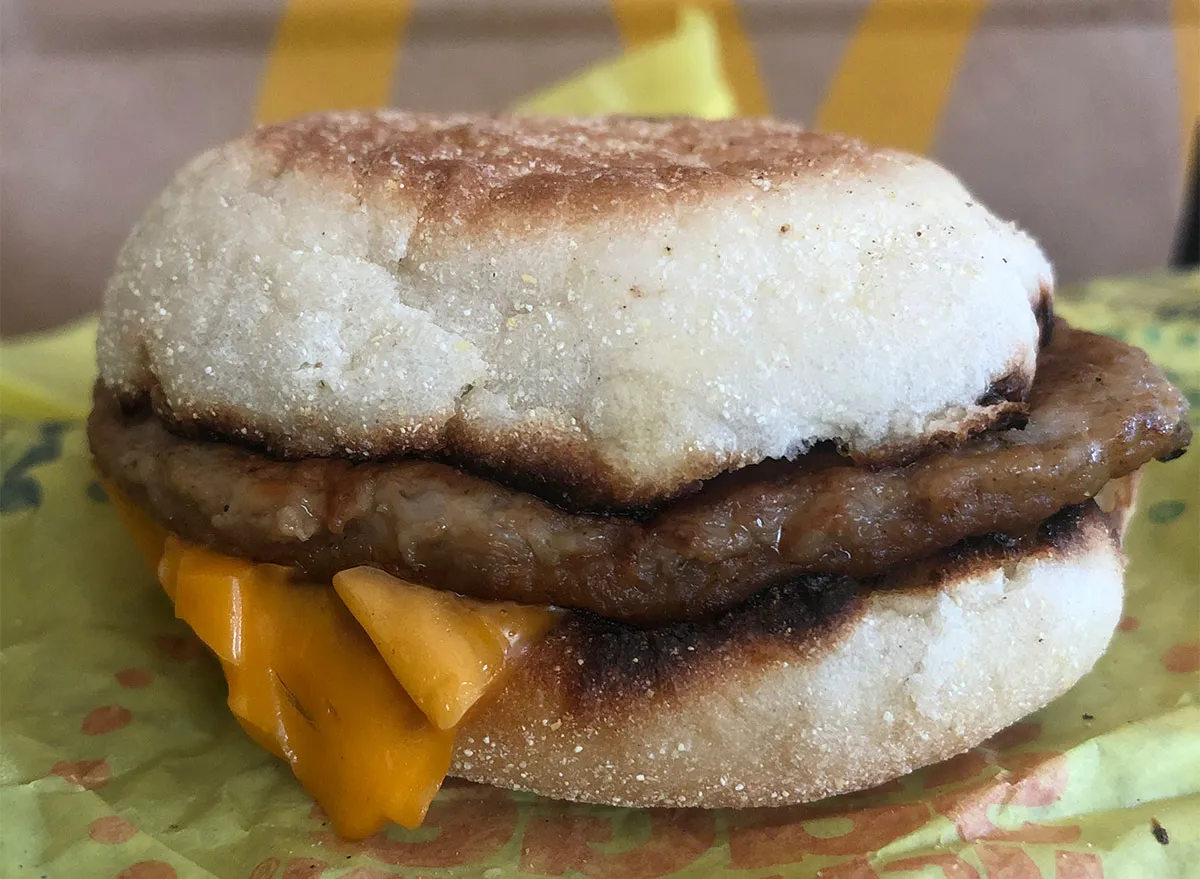 Another solid option. The airy English muffins and juicy sausage work nicely together. If you want a sausage sandwich that'll sit a little lighter in your tummy, this is a good way to go.
RELATED: One Major Effect of Eating McDonald's, Says Dietitian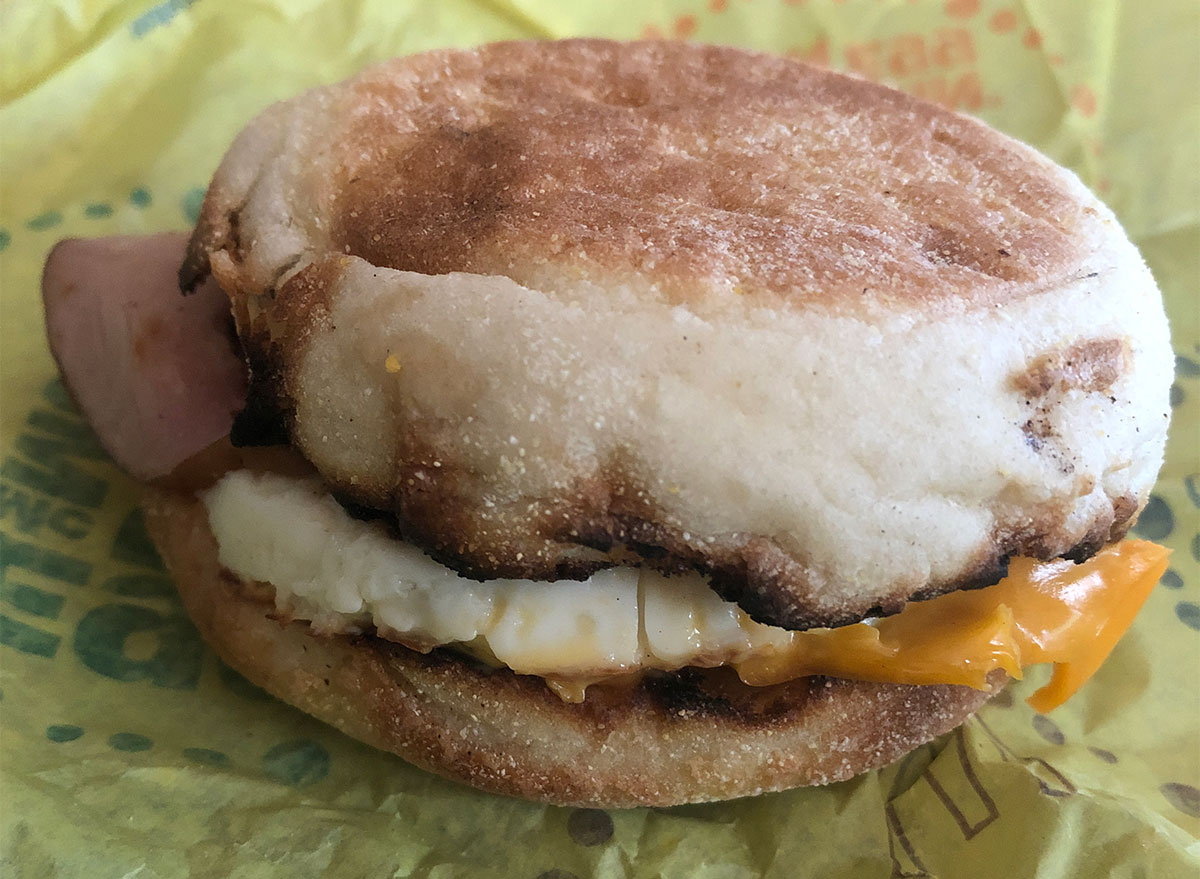 Hello, old friend. The Egg McMuffin is a classic for a reason. It's an English muffin loaded with a fried egg, Canadian bacon, and a slice of American cheese. It happens to be one of the lower-calorie breakfast sandwiches (if you track those sort of things) but is still filling and delicious. The English muffin is light and airy, and the cheese brings it home.
RELATED: The Best Secret Menu Options at McDonald's
BEST: Bacon, Egg, and Cheese McGriddles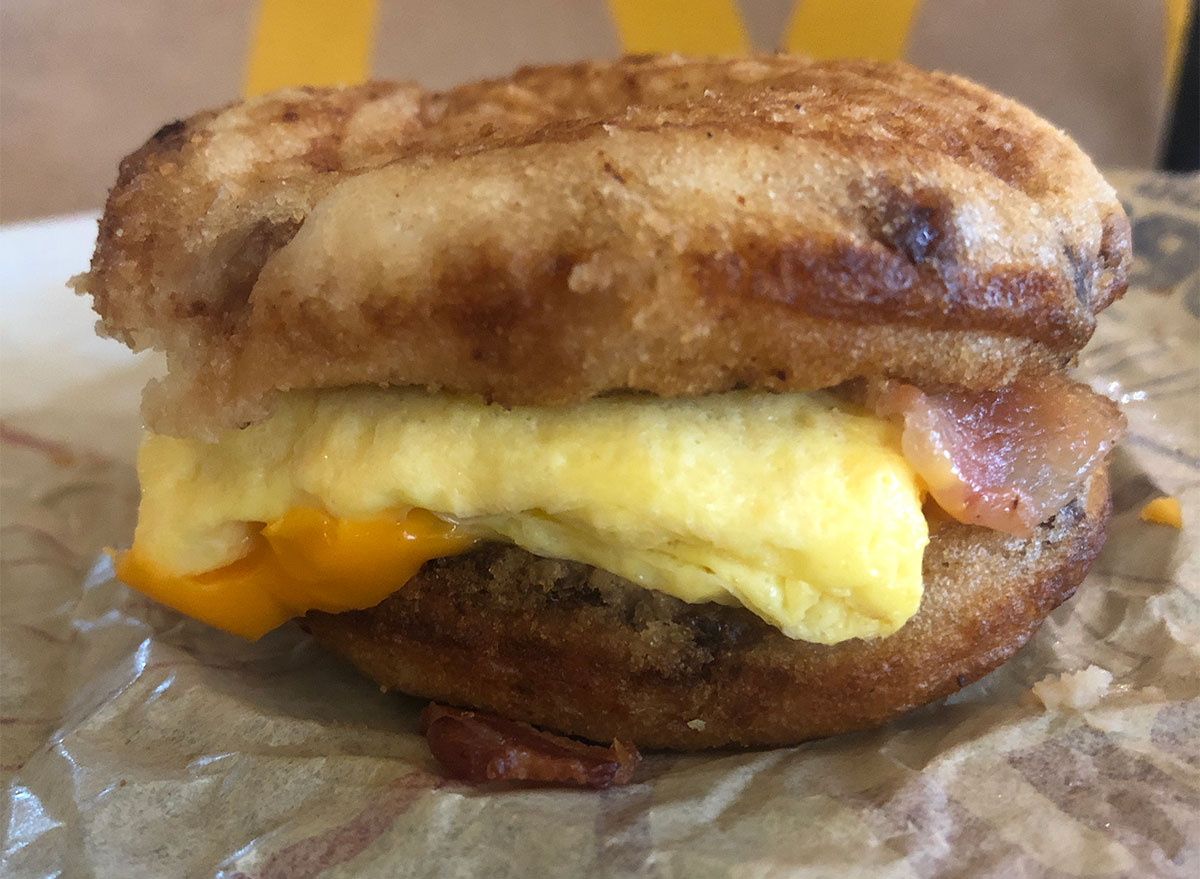 DING, DING, DING. We have a winner. "This one is like an entire breakfast as a sandwich," said my husband. Everything in this sandwich works in perfect harmony: the syrupy griddle cakes, the savory bacon, egg, and melty cheese. If you're only getting McDonald's once in a blue moon, I say go all out and treat yourself to this.
Read more:
11 Controversial Secrets About McDonald's Menu Items
7 Healthiest McDonald's Orders, According to a Dietitian
The Worst McDonald's Menu Items You Should Never Order
The post We Tried Every Breakfast Sandwich at McDonald's, and This Was the Best appeared first on Eat This Not That.
Eat This Not That