If you take a stroll through your local Costco warehouse, you won't be able to miss the beloved sample carts or all of the huge holiday decorations that are already on display. But there's something else that you might not notice at first glance—the infamous "death star." If you see this asterisk on a price tag, it means that the item won't be restocked once the current stock runs out.
During my most recent trip to Costco, I was shocked by how many death stars I spotted. Some of the impacted products are fall foods, so it's possible that the retailer is rearranging its shelves for the winter season.
In total, I counted 11 asterisks—and with thousands of items in each warehouse, it's definitely possible that I could have missed some. Here are the items that Costco is discontinuing soon, so you can better plan your next shopping list.
Related: 5 Most Disliked Food Items at Costco's Food Court
Old Tyme Whole Grain White Wheat Bread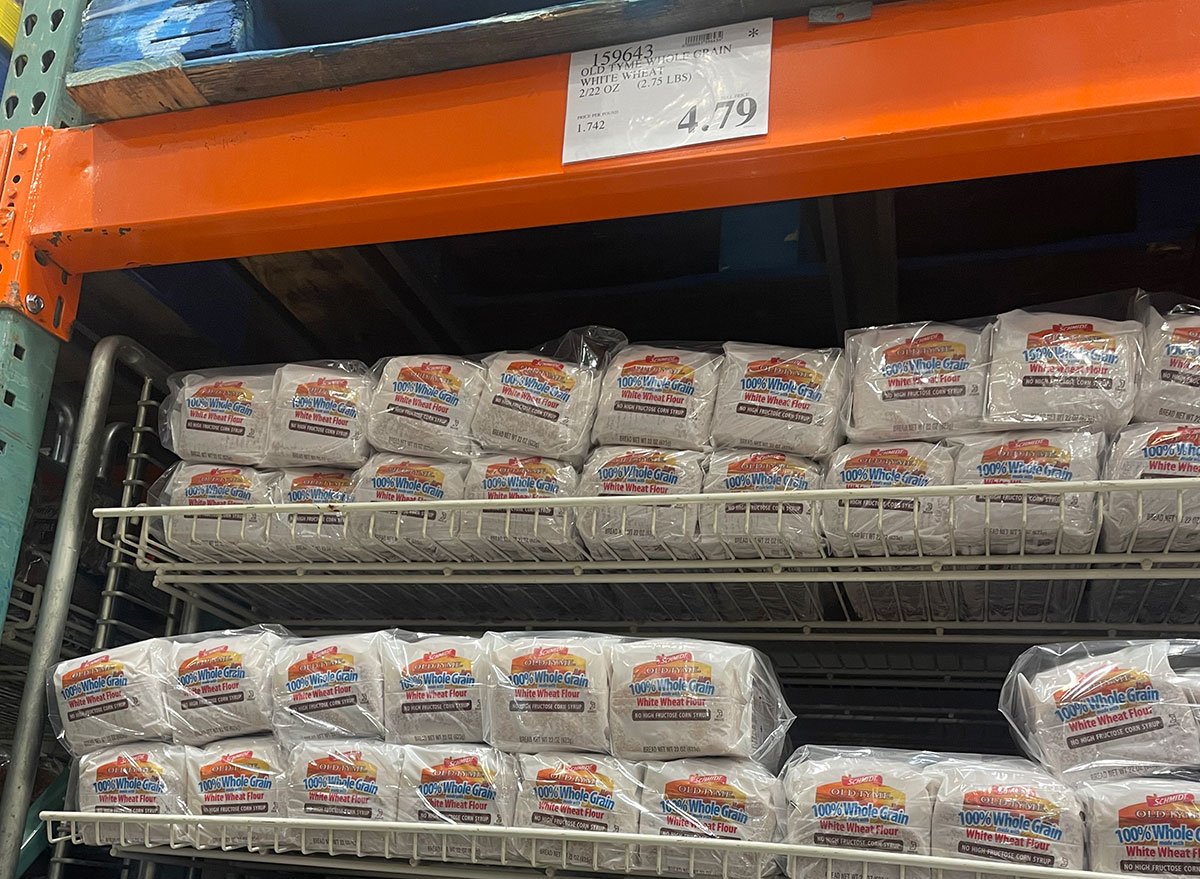 Say goodbye to this variety of bread, which is no longer available online. Though this item is on its way out (bread doesn't last very long on store shelves before going stale), two new loaves just landed in the bakery section.
Fannie May S'mores Snack Mix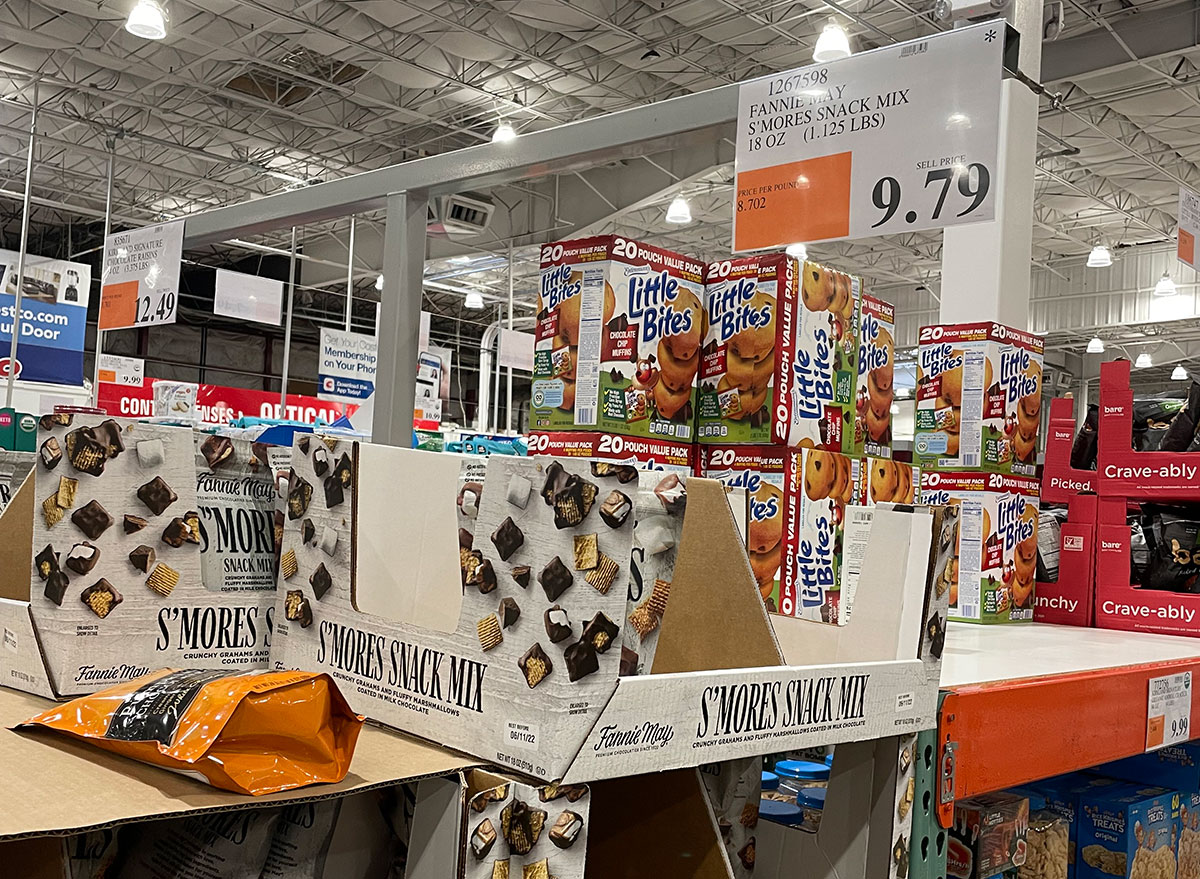 This Fannie May S'mores Snack Mix was a hit—and Costco members wore their love for it on their social media sleeves. Look no further than the Instagram, Reddit, and even Pinterest posts dedicated to this sweet treat.
Bags of this snack are still available online and at the warehouse, but they may not be for very long given their popularity . . .
Related: To get all of the latest Costco news delivered right to your email inbox every day, sign up for our newsletter!
Popcornopolis Pumpkin Spice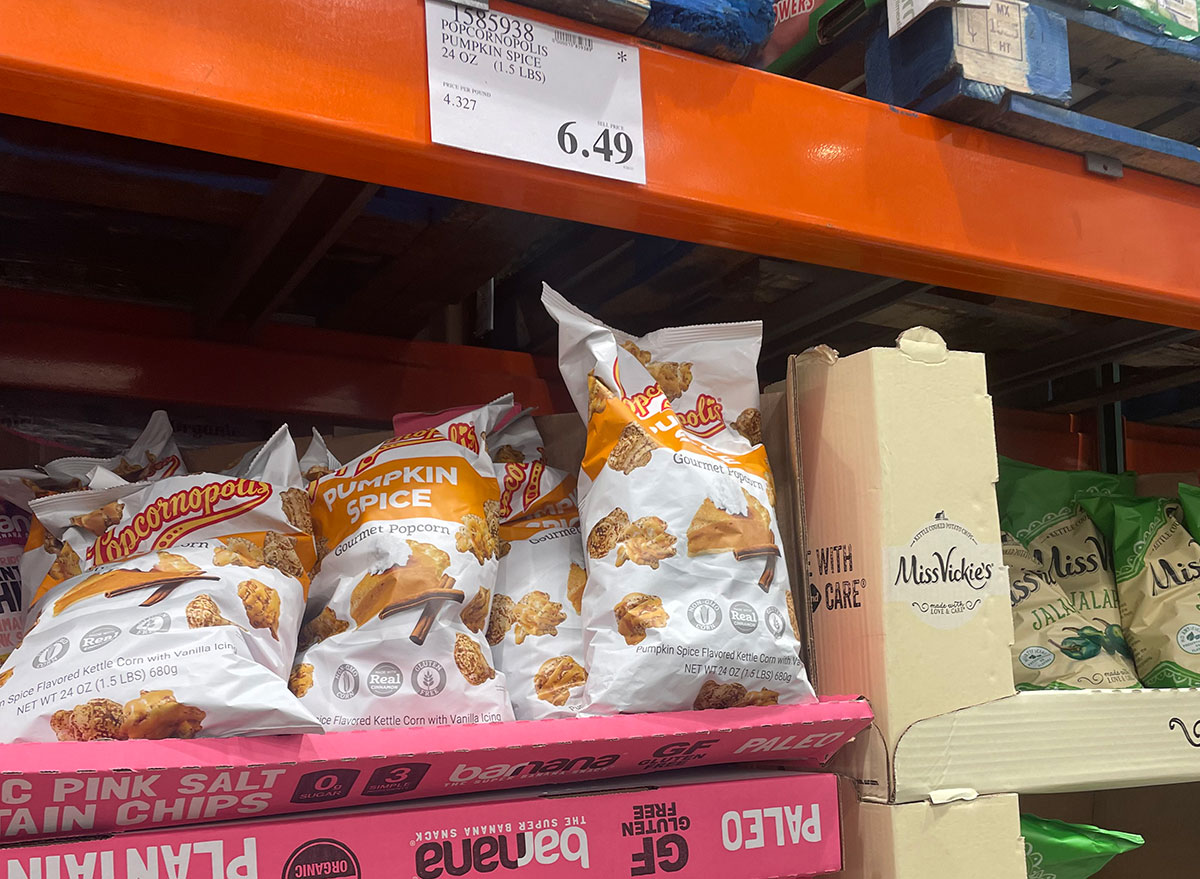 The leaves on the trees may still be changing and falling, but Costco is already letting go of several seasonal items, including this one. Luckily, this isn't the only Popcornopolis popcorn available at the warehouse—there's also a 30-bag variety pack of Nearly Naked, Kettle Corn, and Buttered Up! for sale online.
Krusteaz Pumpkin Spice Bread 4 Pack
Of course, it's sad when Costco decides to discontinue an item, but products that are sold in bulk packs can often be enjoyed for weeks or months to come. Case in point: this 4-pack of Krusteaz Pumpkin Spice Bread. Unless you're baking for a huge crowd, four mixes will likely last you until the end of the holiday baking season.
Related: Costco Just Dropped This Brand-New Bakery Item
Itaberco Chocolate Salted Caramel Sauce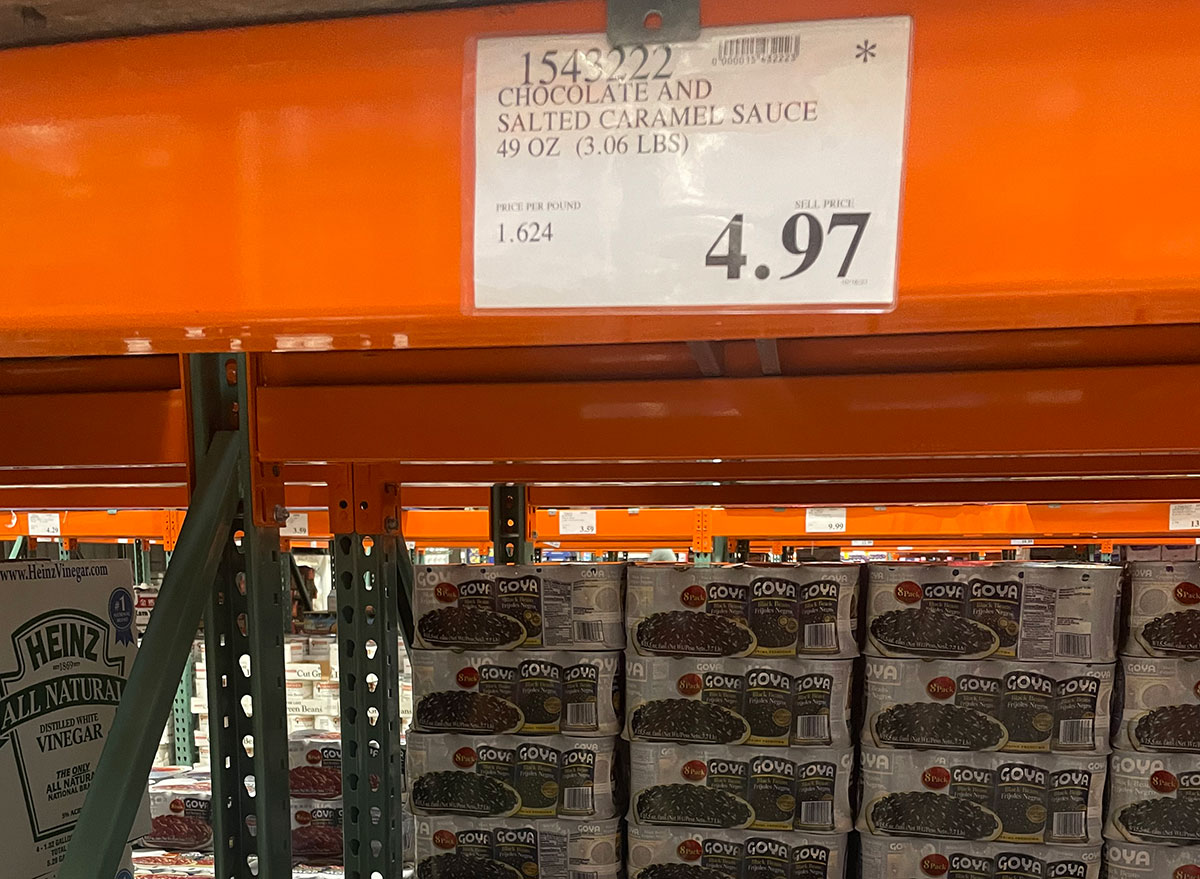 This $5 double-pack of chocolate and salted caramel sauce was a multipurpose gem, but sadly it will soon be gone for good.
Primal Kitchen Buffalo Sauce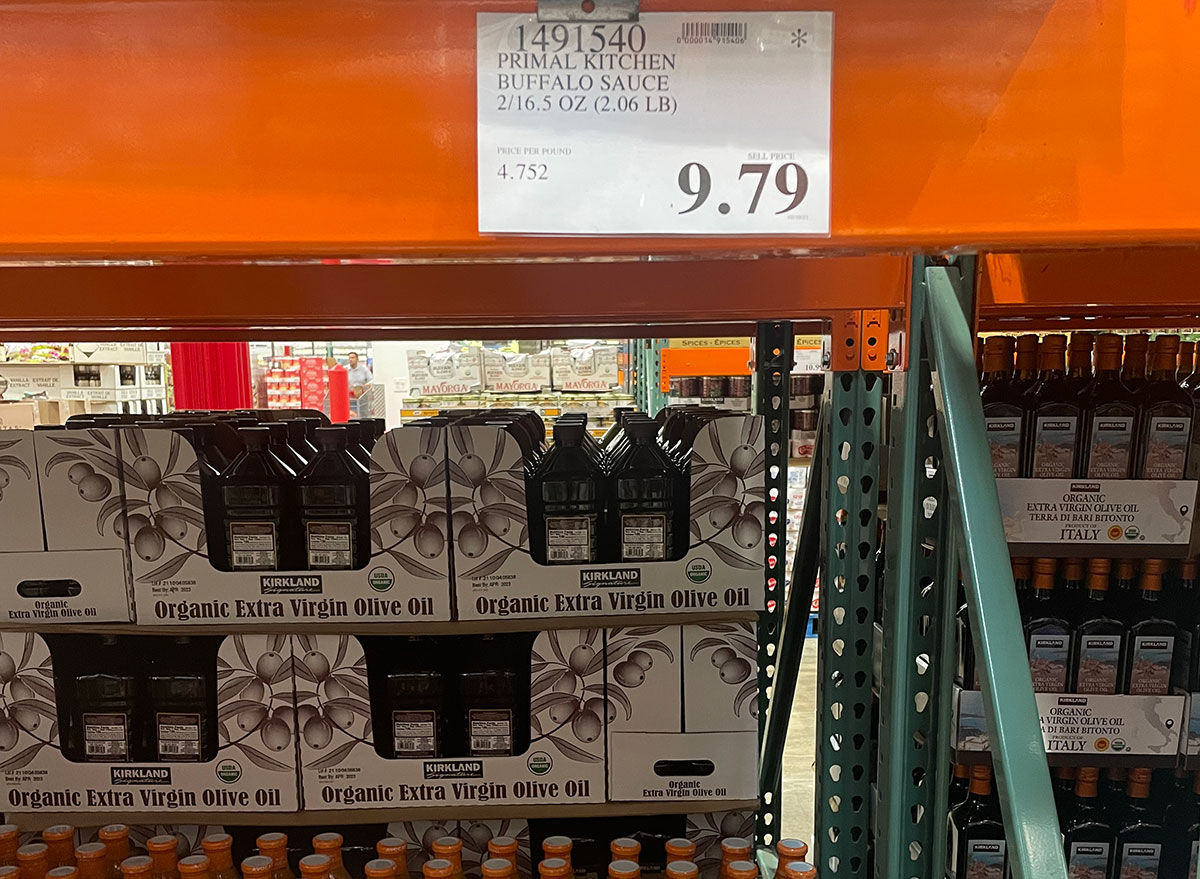 Primal Kitchen is known for its dressings, marinades, snacks, and more—but there's about to be one less offering available at Costco. The two-pack of buffalo sauce is being discontinued.
Sweet Red Bean & Purple Rice Dessert Soup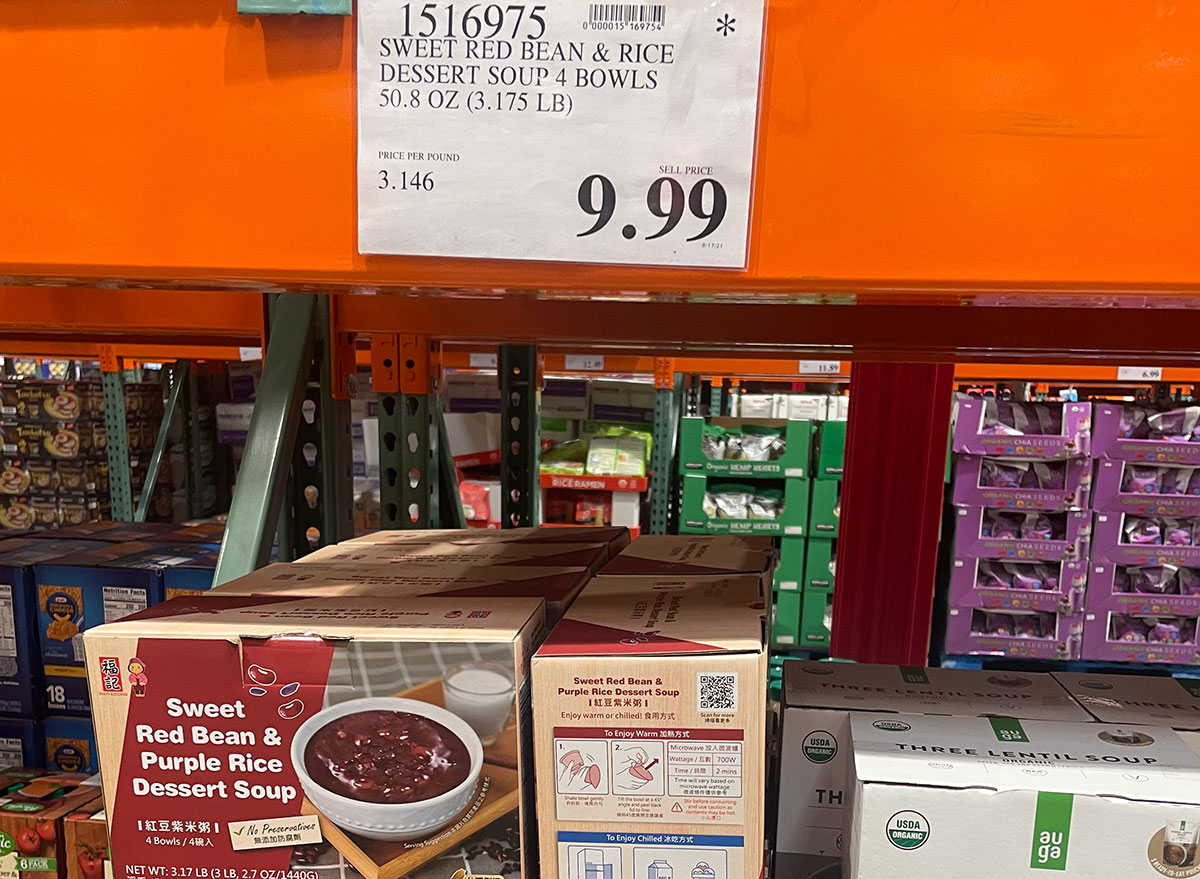 This Chinese dessert was being sold in packages of four at the warehouse, but they currently have an asterisk on the price tag. If this item is on your shopping list, be sure to stock up during your next trip since it's not currently available on Costco's website.
Related: The Best and Worst Frozen Desserts in America in 2021—Ranked!
Ottogi Kimchi Pancake Mix
Buy one box of this kimchi pancake mix, and you're set with almost 3 pounds! If you're a fan, consider buying more because this item is marked with the death star. Should you run out, this mix is also available on Amazon—but for more than it costs right now at the warehouse.
Pocky Chocolate Biscuit Sticks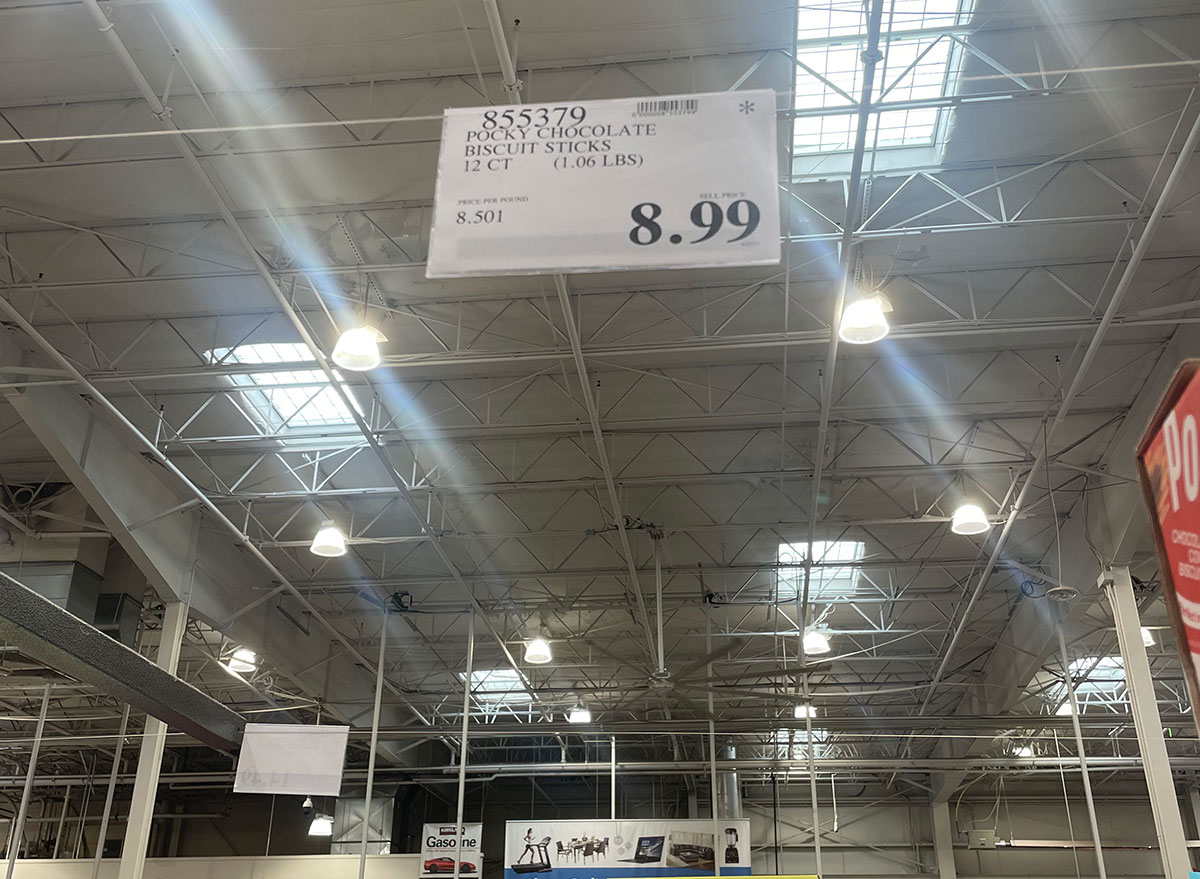 These chocolate-covered sticks make a great, quick snack, but the 12-count packs are being discontinued at the warehouse. Costco has a better deal than rival stores like Walmart, where one pack costs around $1.15.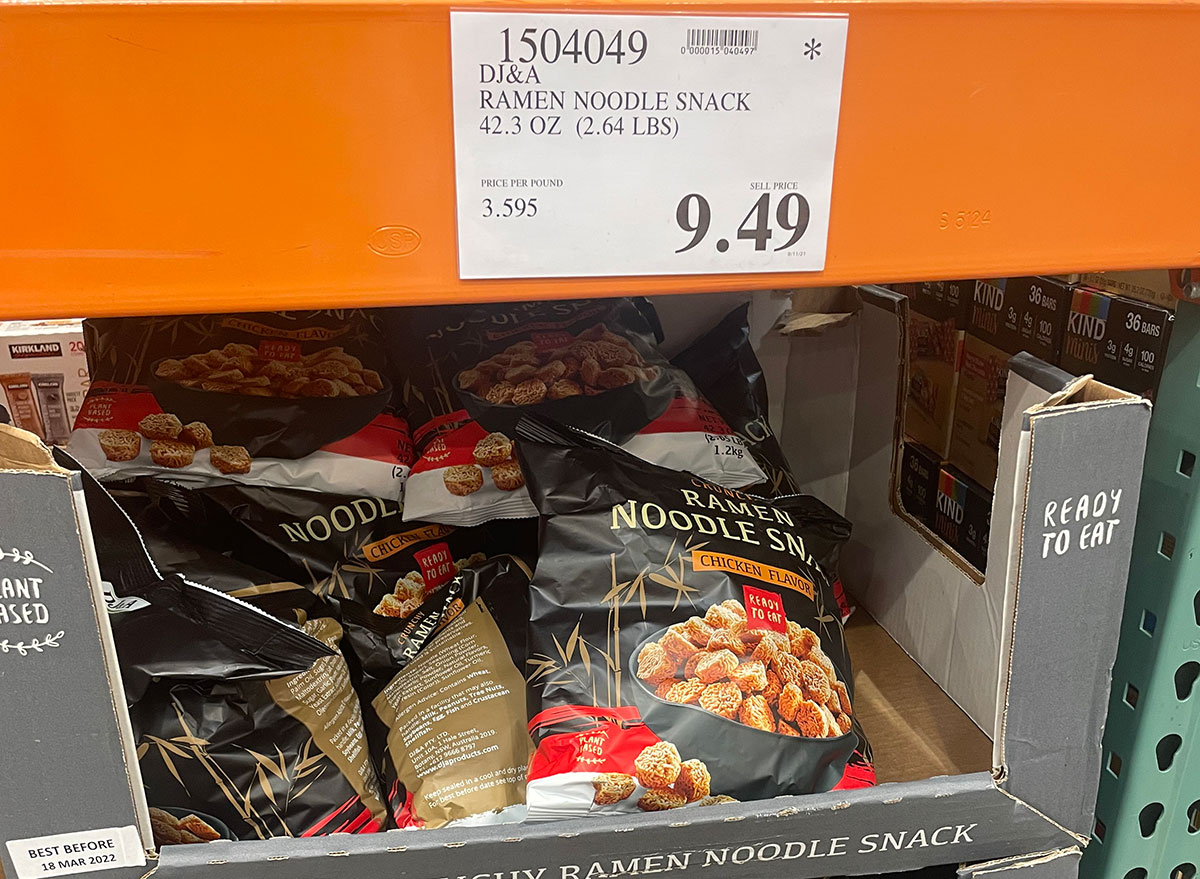 Speaking of snacks, this savory one is also leaving warehouses for good when the current supply runs out. Be sure to stock up on these in case a ramen + chips craving pops up—and it may. Just ask the hundreds of people who interacted with this Reddit post about their thoughts.
The Snak Yard Salted Egg Fish Skins
These 5.1-ounce bags of fish skins are another snack that's getting the boot from the warehouse. If you're a fan, grab some for $10.99 on your next Costco run. But all is not lost—they're currently available on Amazon for less than $8.
For more on what's happening at the warehouse near you, check out:
The post Costco Is Discontinuing These 11 Items Soon appeared first on Eat This Not That.
Eat This Not That