French fries are arguably one of the most popular hits that bring people up to the drive-thru window. They're cheap, and no one can resist a salty, crispy, deep-fried potato. But which fast-food joint holds the title for the best fries?
Well, our Eat This, Not That! team took it upon ourselves to find out for you. It's a daunting task, really—but we NEED answers in the name of journalism.
Out of the plethora of fast food spots available across the country, we narrowed our testing down to seven fast-food places we thought were the most popular and that would reach a national audience. Sorry west coasters, but the In-N-Out fries were just too far out of reach to include in our taste test.
With that, ranked from worst to best, is our list of fast-food fries. (Hint: We did not see this winner coming.)
And for more, don't miss these 100 Shocking Facts About Fast Food You Never Knew.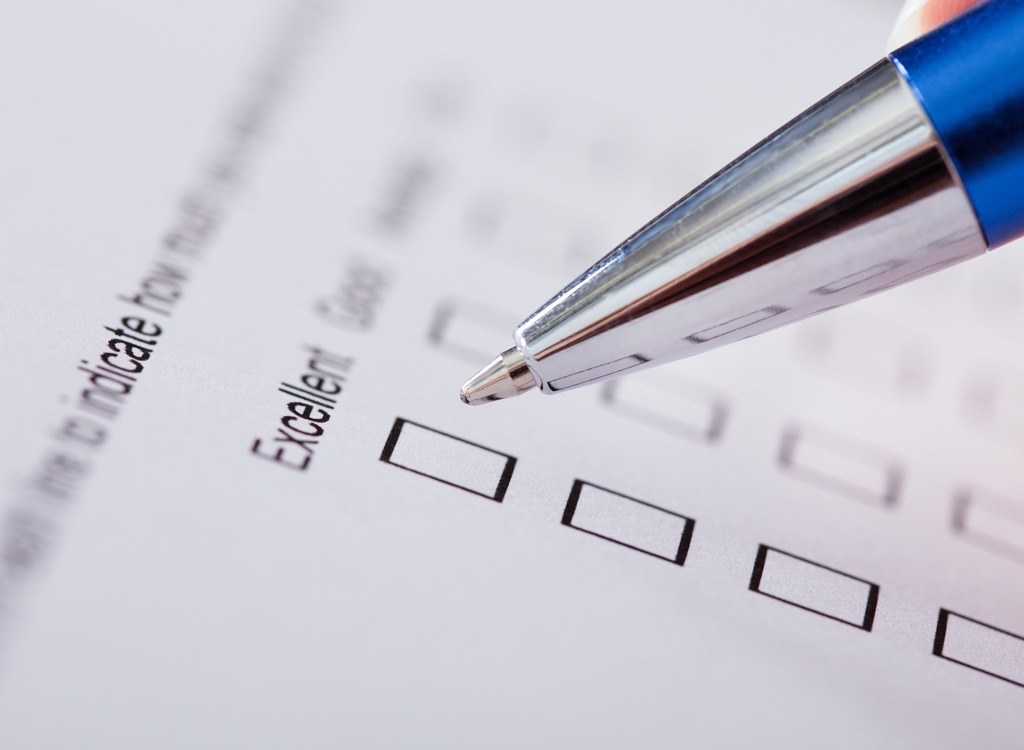 The restaurants we grabbed fries from included:
Arby's
Burger King
Chick-fil-A
Five Guys
McDonald's
Shake Shack
Wendy's
We evaluated the fast-food fries based on texture and taste. And when it comes to French fries, everyone is different. Some like them extra crunchy, while others like them softer and with a mashed potato-y texture. We honed in on wanting a fresh potato taste (nothing artificial-tasting), not an overwhelming amount of salt, and a pleasing golden fried crust surrounding soft potato on the inside.
RELATED: Sign up for our newsletter to get daily recipes and food news in your inbox!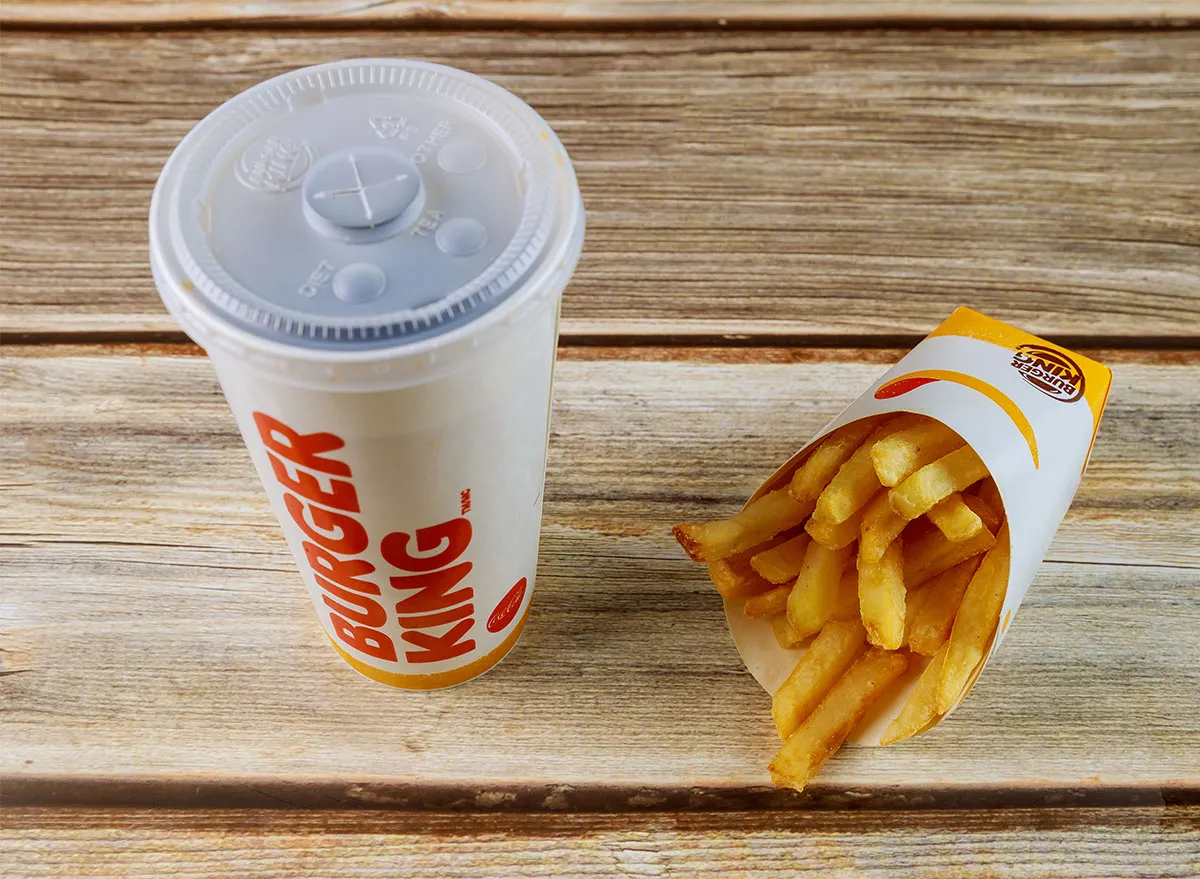 No, we didn't get the chicken fries—although something about the regular potato fries makes me wish we did. When we first tried them, they tasted stale. Overall, in our opinion, they were just not good.
Sadly, this vote was unanimous when deciding the worst. The fries practically looked untouched after the taste test, while some tasters went back for seconds and thirds on the other fries. We were not fans of the fake potato taste.
One editor said, "Not enough salt, these taste the most 'fake.' They don't taste at all as I remember from childhood." Another said, "Not great…dense…I don't taste the salt and it has a bad aftertaste." We didn't hold much back when it came to these fries. Maybe we should have just bought those chicken fries after all.
RELATED: We Tried Every Burger at Burger King—Here Are the Best Ones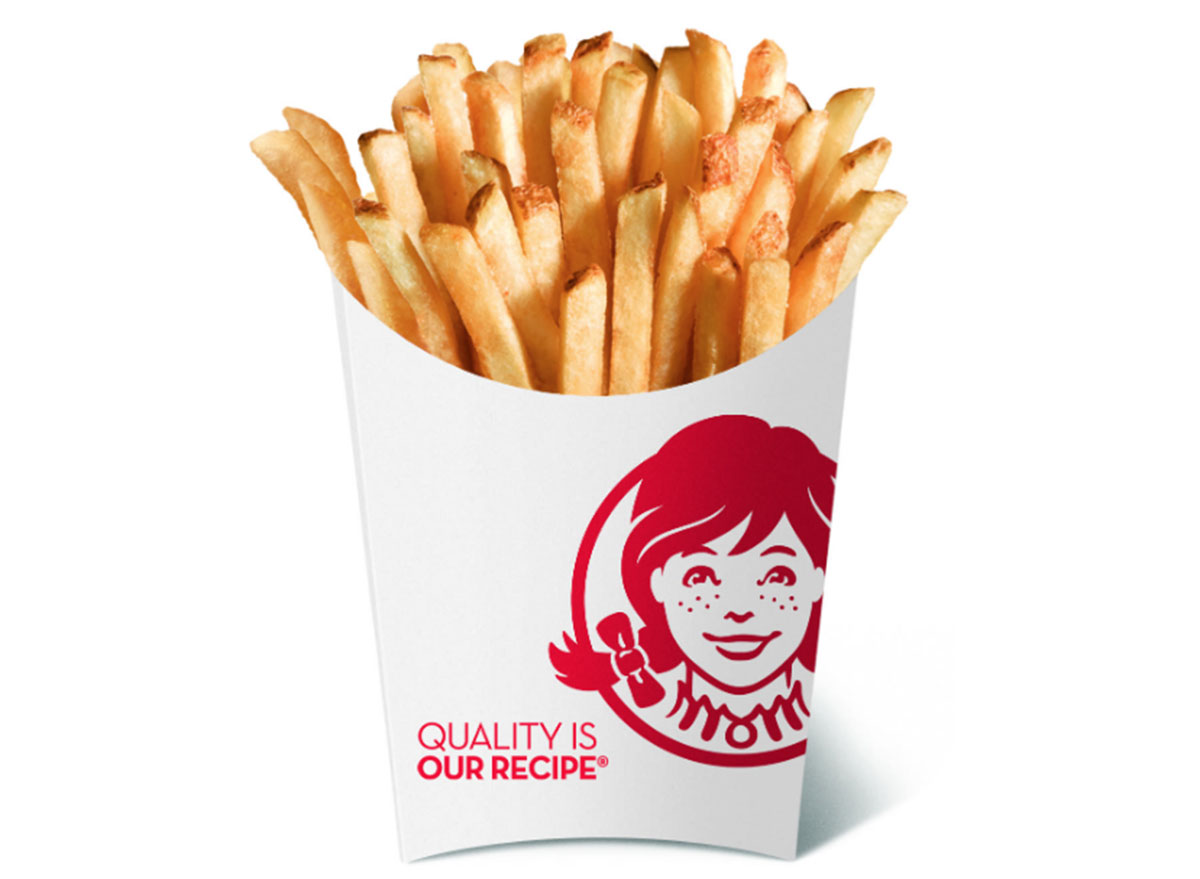 Poor Wendy's. We were shocked by our reactions. On the Wendy's website, the company states that its spuds are "cut from whole potatoes, cooked skin-on, and served hot and crispy with a sprinkle of sea salt for a taste as real as it gets." These looked the most healthy with the skins, but their taste after the trek back to the office had diminished, sadly.
Our editors said they looked "a bit limp" and left some "underwhelmed." But others found the fries and their authentic potato taste delicious! One editor said "Good amount of salty…tastes fresh. I'm into it. Now, I need a burger."
It was a common thought that they tasted the most similar to a baked potato. One editor stated, "I feel like I need some sour cream for these fries!" Overall, they just didn't give us that crispy fried texture our favorite spuds are known for, so these were ranked second to last.
RELATED: 8 Secrets Wendy's Doesn't Want You to Know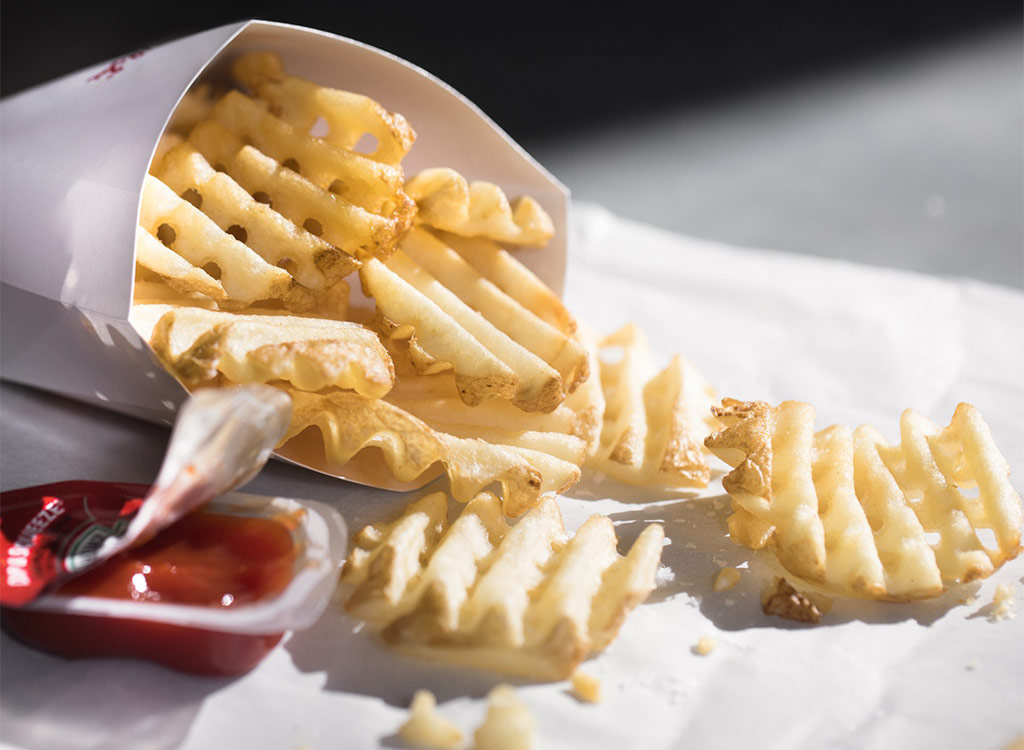 Ah, the waffle fry. Some love it, others hate it. It gives you multiple opportunities for extra crunchy bits and more of a steak fry texture. We love a good waffle fry, and there's no denying that Chick-fil-A sauce is unmatched. The fries alone are super crispy and salty, but that can sometimes only please part of the crowd.
We were split down the middle. One editor said, "not salty enough…not a fan of waffle fries. Too much potato, not enough crunch." But another said, "I love how salty these are, and they didn't get soggy after sitting out." If you're a fan of waffle fries, you'll love the ones at Chick-fil-A.
RELATED: 15 Secrets About Chick-fil-A Every Fan Needs to Know
Five Guys gets bonus points for giving so many fries in the bag. OK, we're kidding, but we did watch a worker get a large cup, fill that, put it in the bag, then scoop even more into the bag. We had so much extra, which was good because we enjoyed them thoroughly. We're glad we ordered the large. Unlike other fast-food French fries, Five Guys fries are cooked in peanut oil and seasoned with regular salt. It sure gives them a different taste compared to the rest!
These fries have a boardwalk feel. One editor said, "I would've preferred them with vinegar. They have a weird taste by themselves." We're not sure if the "weird" taste is the peanut oil, but others enjoyed it. One editor even voted these fries as her top pick! She said they "taste like actual potatoes; just the right amount of salt, the skin on them adds a nice flavor." The balance of soft potato and crispy salty edges made for a great classic fry taste.
RELATED: This Is Why Five Guys Burgers Are So Consistently Good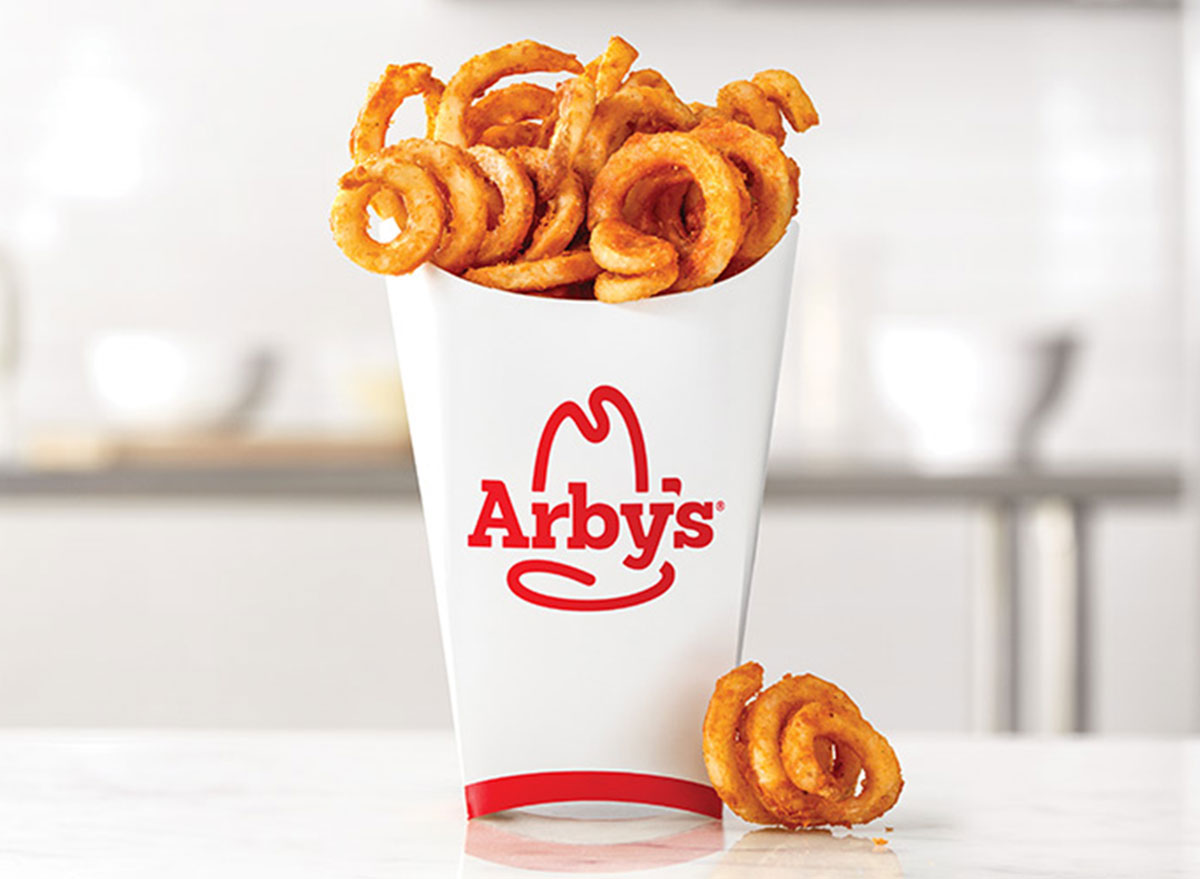 Nothing beats the spiced curly fries and topping that off with a Jamocha Shake. Unfortunately, the fries on taste test day were underwhelming and not quite enough to hit the top two spots in our test.
We were split across the board. Some loved the deliciously spicy taste and said the "seasoning is top-notch," while others said they were "too spicy and not a typical fry." One editor who put it as her number one said, "Wow! These are seasoned perfectly and were still fresh after the subway ride. I couldn't stop going back for more." Another said, "Seasoning is top-notch. Not as crunchy, but very enjoyable."
The classic salted fry is not a recipe to mess with. But Arby's does an excellent job with its take.
RELATED: 11 Secrets Arby's Doesn't Want You to Know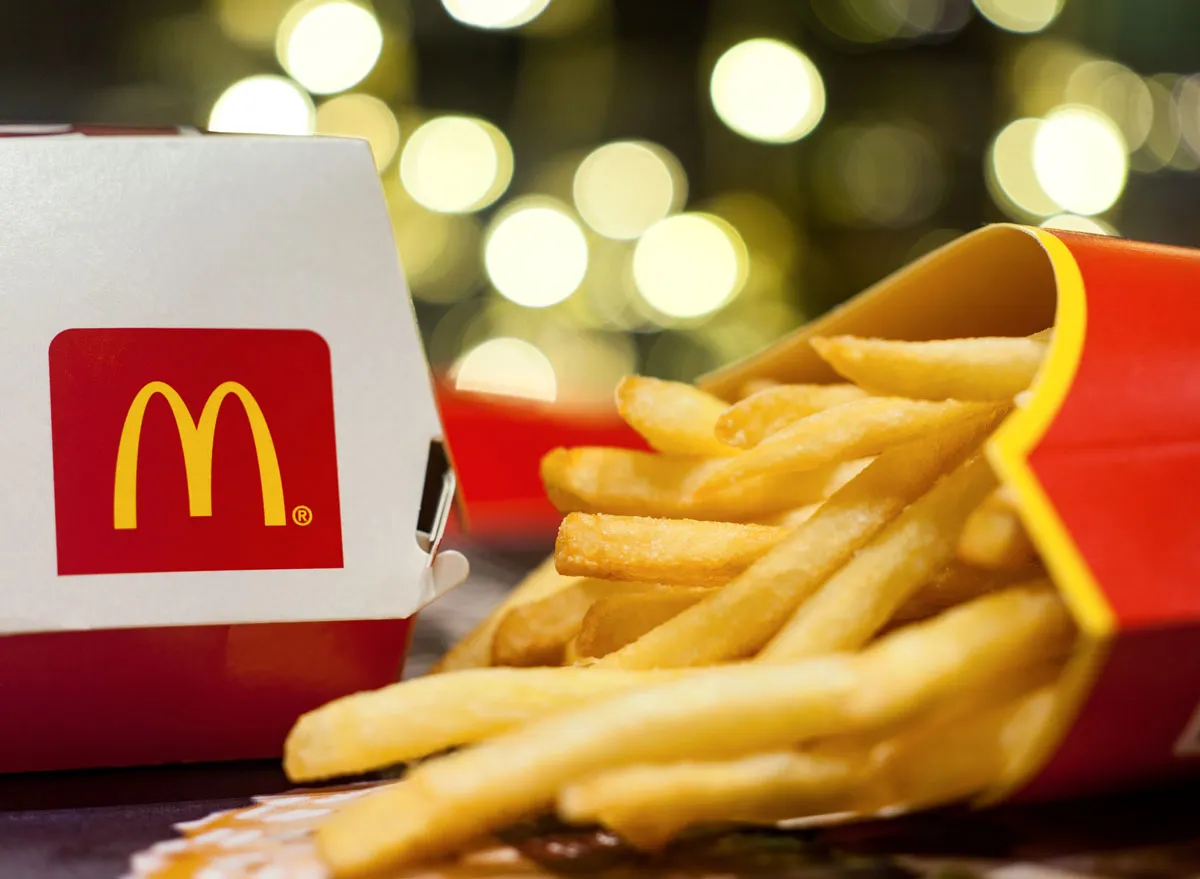 McDonald's fries are always a crowd favorite. These salty spuds are classic, and the voting proved just that. These fries are enjoyable hot or cold, even without ketchup or any dipping sauce. You can't mess with perfection.
Some lower voters are definitely fans of the more crispy potatoes. One editor said they're "not too salty, but really squishy. Not crispy enough, I would say they're too soggy." Others loved the flimsy potato strip, saying they "taste like college." Others raved about eating them growing up. One editor said these fries were "classic—tasted like my childhood." Sometimes, the nostalgia is worth the grease.
RELATED: You Won't Believe How Many Ingredients Are In McDonald's French Fries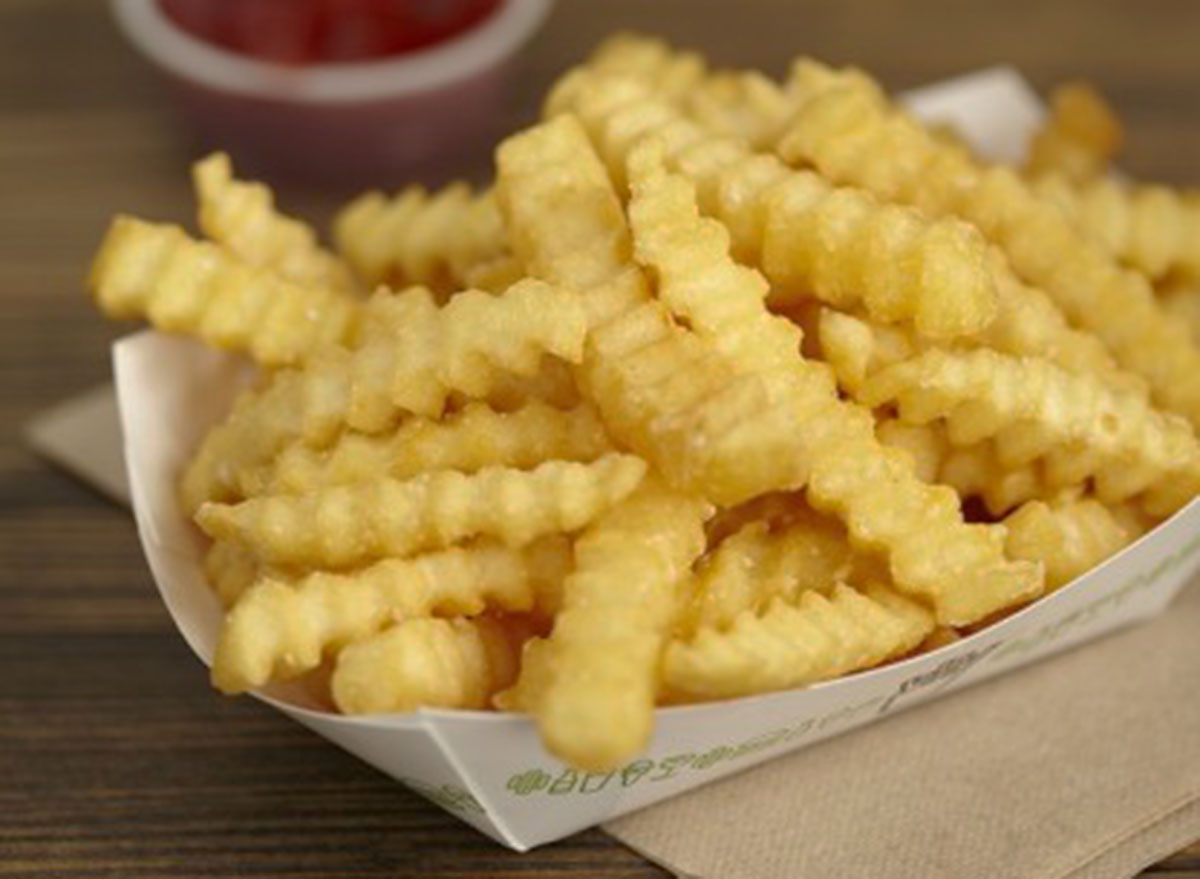 Shake Shack started out as a hot dog stand if you can believe it, yet now they're a growing national chain known for its burgers and, can you believe, its crinkle-cut fries.
Eat This, Not That! editors were neck-and-neck between these and the heavy-hitter McDonald's fries, but overall these fries triumphed over them all. One editor raved "love the crinkle-cut and color—tastes simply delicious." One editor said "They taste like a real potato–perfectly crunchy and salty. That's saying a lot for a crinkle-cut fry. I usually hate them." So there you have it: Shake Shack can turn anyone into a crinkle-cut connoisseur.
Read more about your favorite fast-food joints:
19 Classic McDonald's Happy Meal Toys You Forgot About
Shake Shack Is Bringing Back This Beloved Menu Item
The Worst Wendy's Burger You Should Never Order
The post We Tried 7 Fast-Food Fries & These Are the Best! appeared first on Eat This Not That.
Eat This Not That