It's that time of year again. We're crossing the threshold from spooky treats to Thanksgiving eats. Sometimes you just want to sink into the feeling of autumn, which usually involves indulging your sweet tooth (in moderation, of course) in the midst of all your holiday festivities.
Kroger is introducing a handful of their own store-brand goodies for the season under their "Baked Goods" New Arrivals to accommodate just that. The variety among Kroger stores is wide, so you may not find the same options at every location. However, at select stores, these are four new items you can pick up in November 2021—that is, if you don't feel like breaking out the mixing bowl yourself.
Related: America's Largest Grocery Chain Just Added 6 New Items to the Freezer Section
Kroger Pumpkin Glazed Cake Donuts
As far as pumpkin spice trends go, donuts are a given. What better to accompany a mug of warm apple cider than a bite of the Kroger Pumpkin Glazed Cake Donuts while you're counting down the days until Thanksgiving?
Just limit your intake relative to other sugary foods—one donut will set you back 37 grams of sugar. That's a little over three times the sugar in a glazed from Dunkin' Donuts. The cost of the 6-count package varies, depending on which location you shop at.
Kroger Caramel Apple Glazed Cake Donuts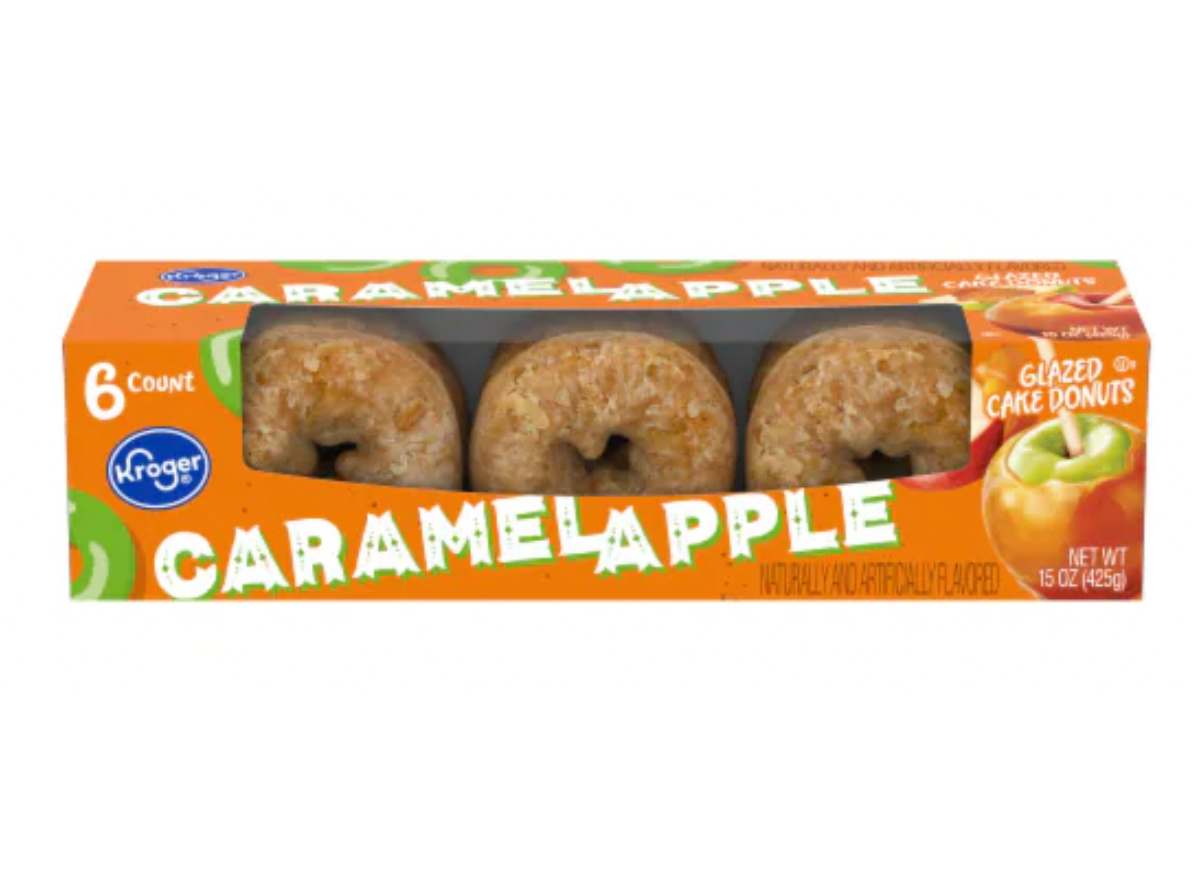 Here's another way to celebrate the flavors of fall, especially if you missed apple-picking season. Kroger®Caramel Apple Glazed Cake Donuts might be better paired with your favorite pumpkin spice latte. Even better if it's this healthful take on the traditional PSL.
This one is a little lower on the sugar content (26 grams), but still consider this an occasional treat alongside a balanced diet with plenty of fiber and healthy fat. The cost of the 6-count package varies, depending on which location you shop at.
Related: To get all the latest grocery store news delivered right to your email inbox every day, sign up for our newsletter!
Bakery Fresh Goodness Pink Frosted Sugar Cookies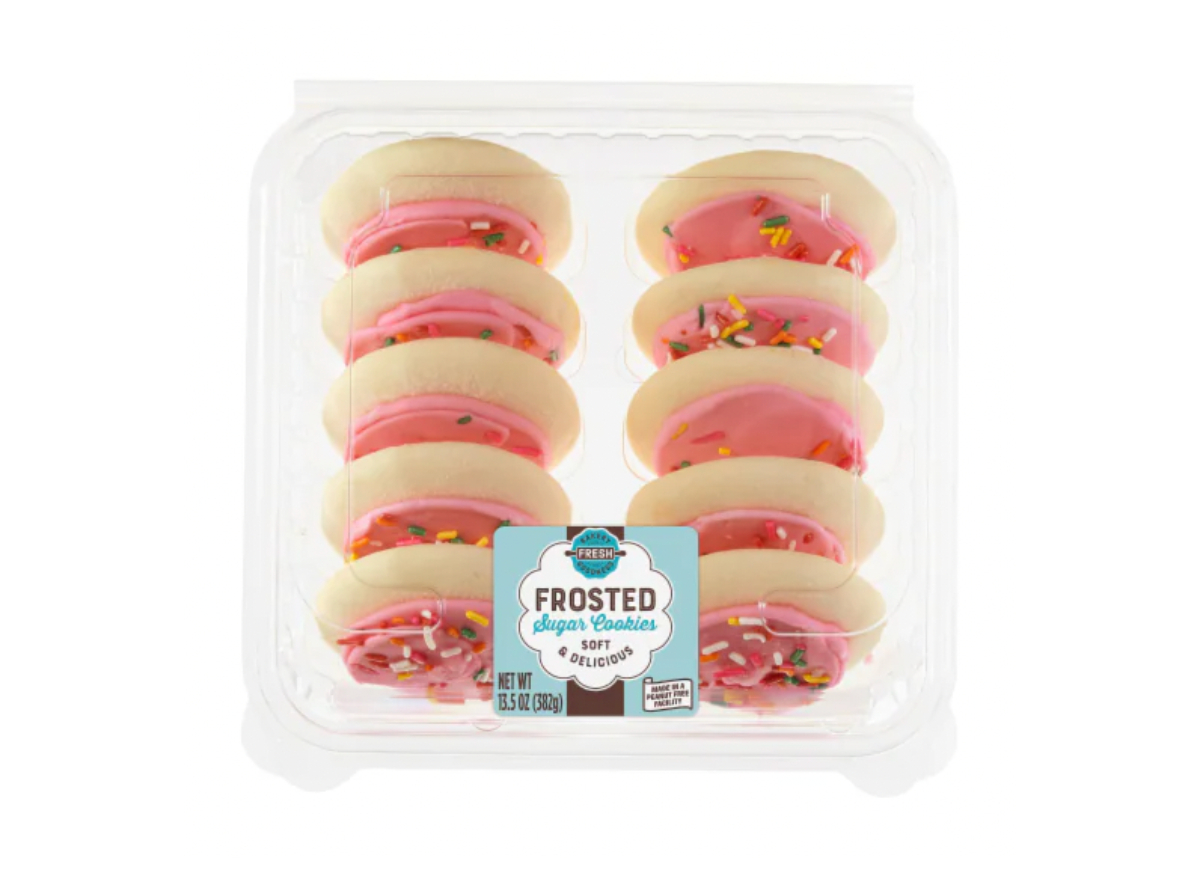 These pillowy cookies topped with bright pink icing and rainbow sprinkles look like the Kroger brand version of Lofthouse Sugar Cookies, and that's a good thing. Even if you don't remember biting into one of these from the school bake sale, we guarantee you'll figure out which of your friends did when you bring the Bakery Fresh Goodness Pink Frosted Sugar Cookies to your next event.
If these cookies are all for you, just be mindful of the hidden serving size—the listing on the package is set at half a cookie. The cakey, buttercream-coated bakery item comes in a 10-count for $3.99.
Kroger Unicorn Toaster Treats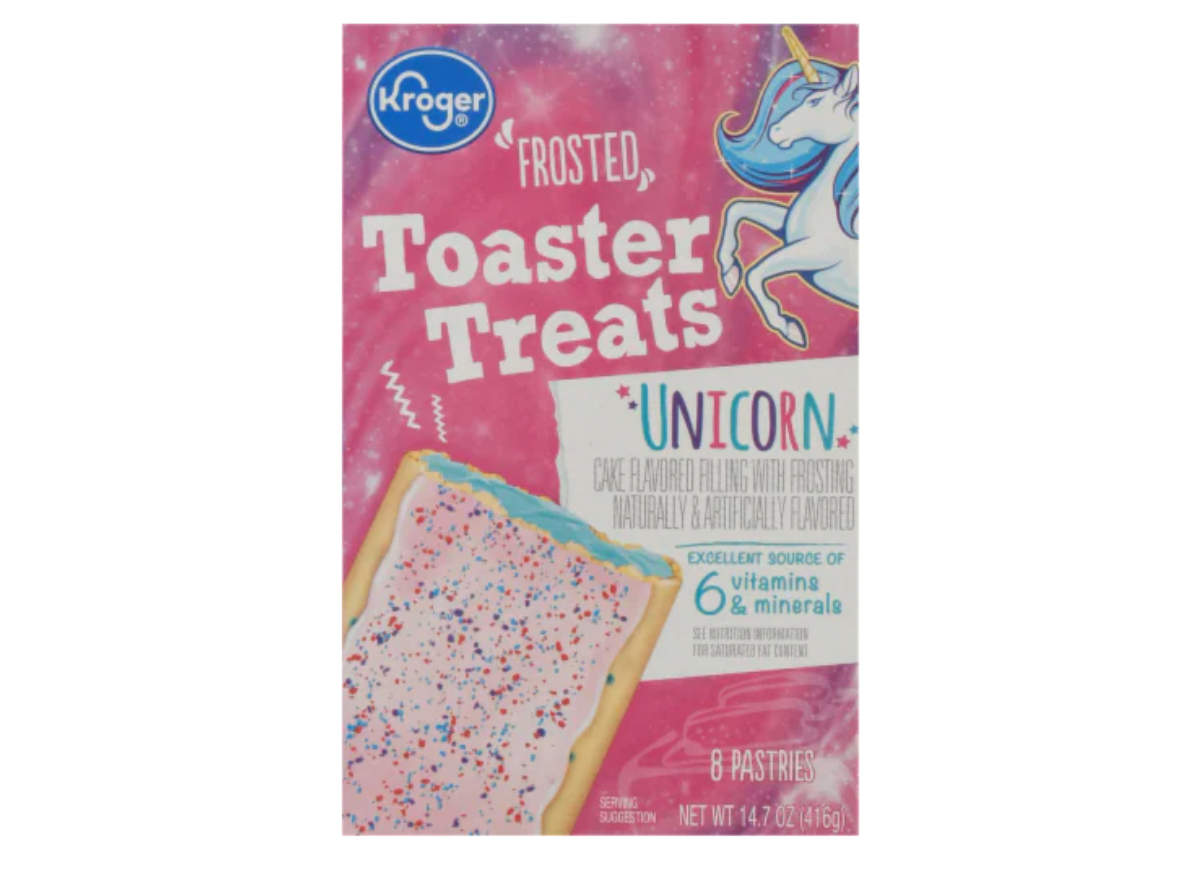 If you're wary of Kellogg's Pop-Tarts after their October 2021 strawberry-streaked lawsuit and are searching for a substitute toastable pocket pastry to take its place in your pantry, give the new Kroger Unicorn Toaster Treats a chance to compete. This one is cake-flavored, filled with frosting and topped with sprinkles.
But since it's packing 40 grams of sugar per serving, treat this confection more as dessert, rather than breakfast. A box of eight is a bargain at only $1.46.
Other brands have new items, too.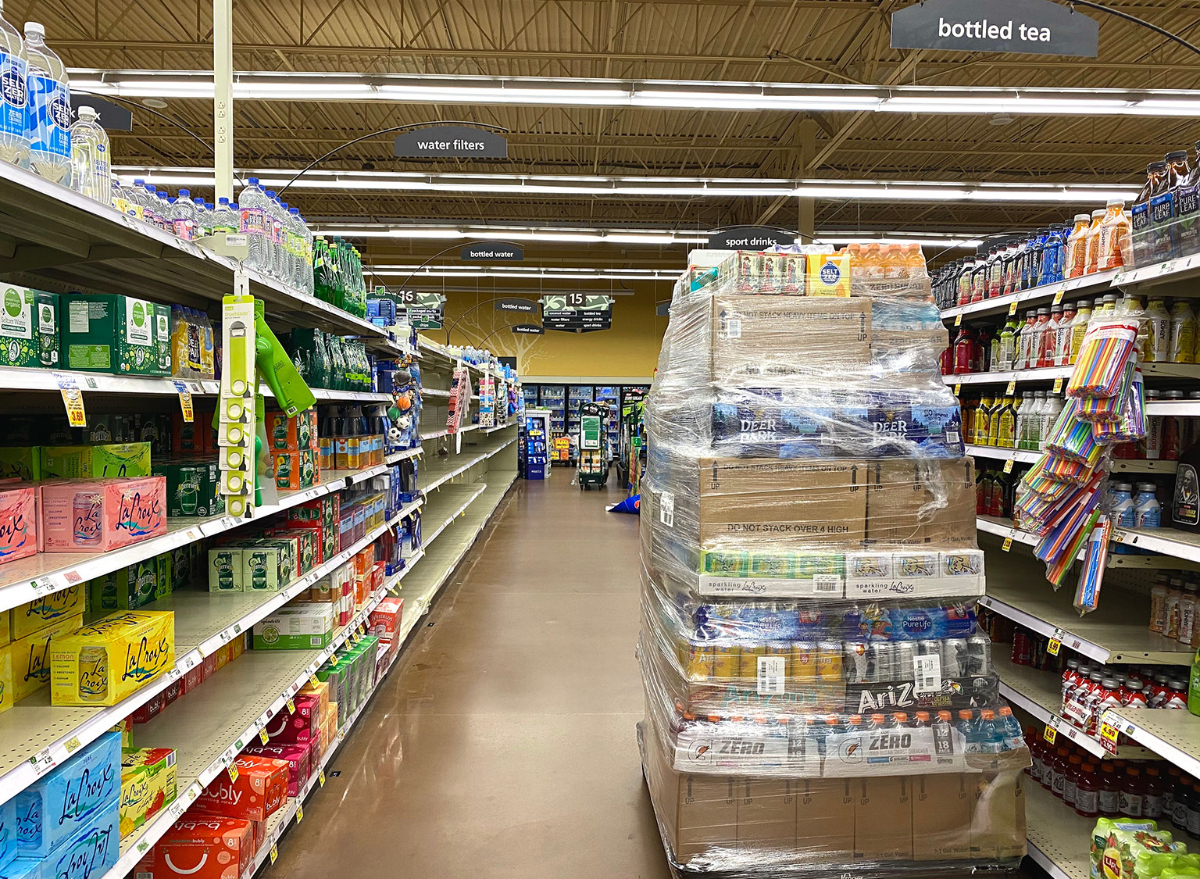 Kroger's expanded offerings aren't just limited to their own brand. The value grocer is also bringing a wide variety of desserts from well-known sweets companies like Tastykake, Hostess, Little Debbie, Entenmann's, and Voortman. For some more everyday bakery staples, they are introducing Thomas' Blueberry Bagels, Nature's Own Butterbread, and Stonefire Artisan Thin Pizza Crust to the baked goods shelves.
For more information about what's happening at the Kroger in your neighborhood, read these next:
The post America's Largest Grocery Chain Just Added 4 New Items to Its Bakery Section appeared first on Eat This Not That.
Eat This Not That