If you contract COVID-19 now, you're may have slightly different symptoms that people did at the beginning of the pandemic, particularly if you're vaccinated. That's according to the ZOE COVID Symptom Study, whose multinational researchers have been tracking symptoms of new COVID cases via an app. In a video update posted last week, Dr. Tim Spector, a professor of epidemiology at King's College London and a leader of the study, revealed the most common symptoms reported by people with new positive COVID tests these days. Read on to find out more—and to ensure your health and the health of others, don't miss these Sure Signs You've Already Had COVID.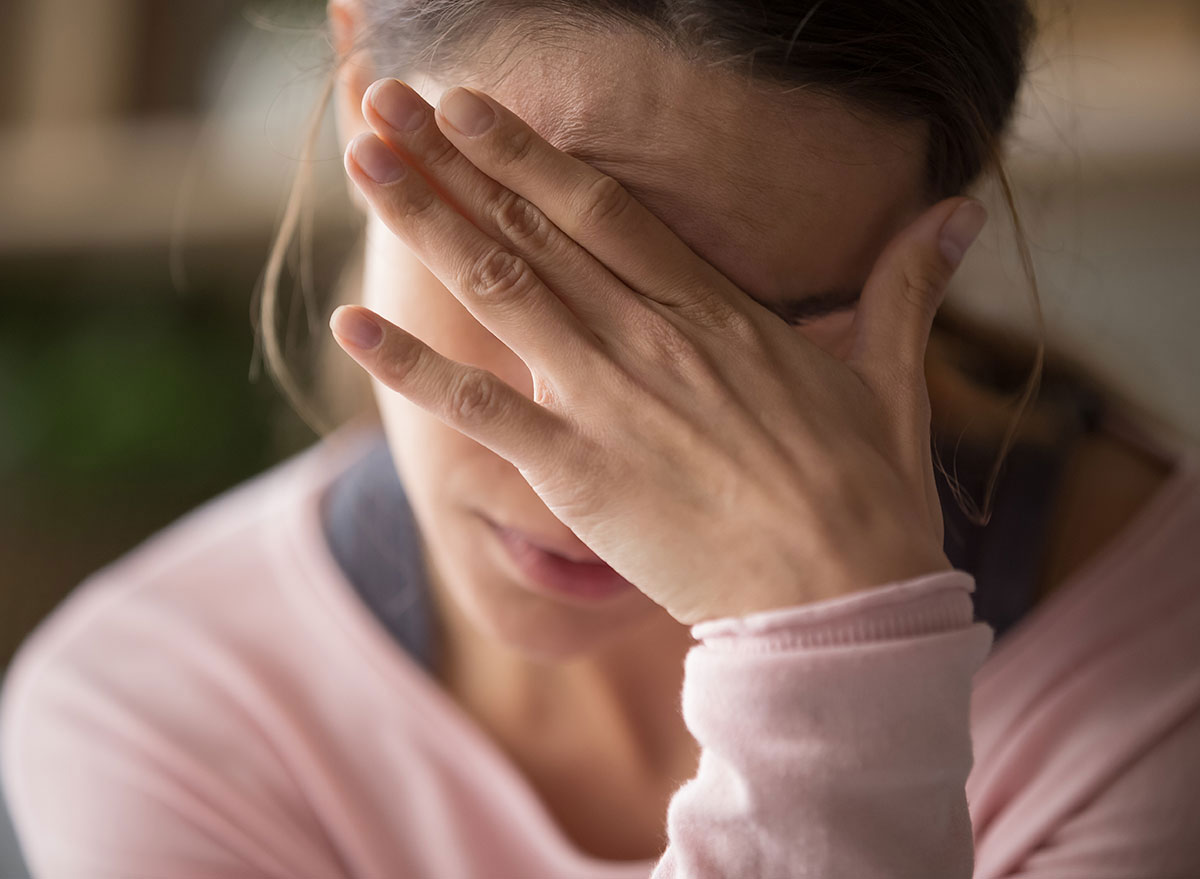 Headache is tied for the #1 most common symptom of COVID now, with 73% of newly diagnosed people reporting it to the Covid Symptom Study researchers. This continues a trend that's been seen for several months with the Delta variant; as it spread, headache replaced more traditional symptoms like cough and fever at the top of the list.
Runny nose is tied for the most common symptom of COVID these days, with 73% of respondents reporting it. Common cold symptoms—not typically associated with COVID early in the pandemic—are more common with the Delta variant and among the vaccinated.
"Mild symptoms like congestion and runny nose are much more common in a vaccinated person with a delta infection, whereas unvaccinated persons are more likely to experience severe symptoms," Dr. Claudia Corwin, an occupational medicine specialist with the University of Iowa Health Care, told NBC 5 Chicago last week. "A lot of vaccinated people don't even realize that they have a COVID infection because they presume it's seasonal allergies or a common cold."
RELATED: Virus Expert Just Warned These States in "Grave" Danger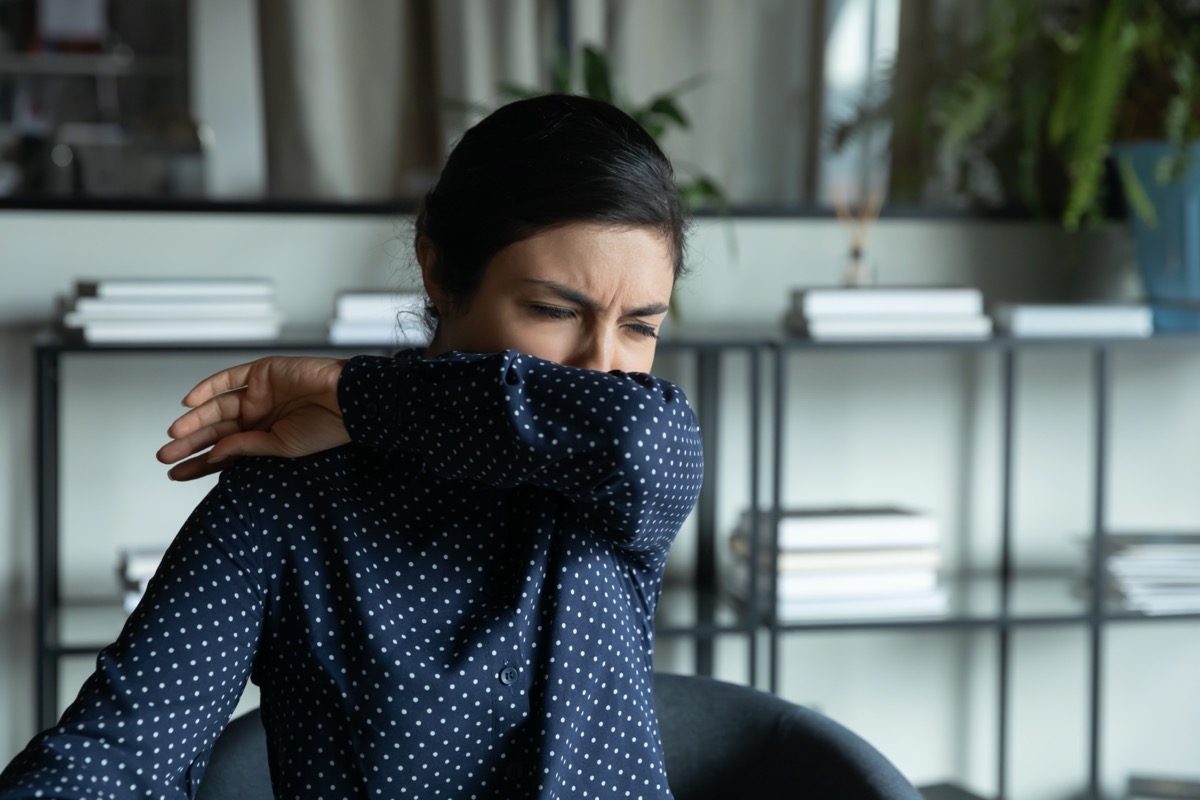 Continuing the common cold vein, sneezing was reported by 59% of people newly diagnosed with COVID. This can make COVID difficult to distinguish from seasonal allergies, a cold or flu. How do you know which it is? If you're in doubt, get a COVID test.
RELATED: Dementia Signs You Need to Know Now, Say Experts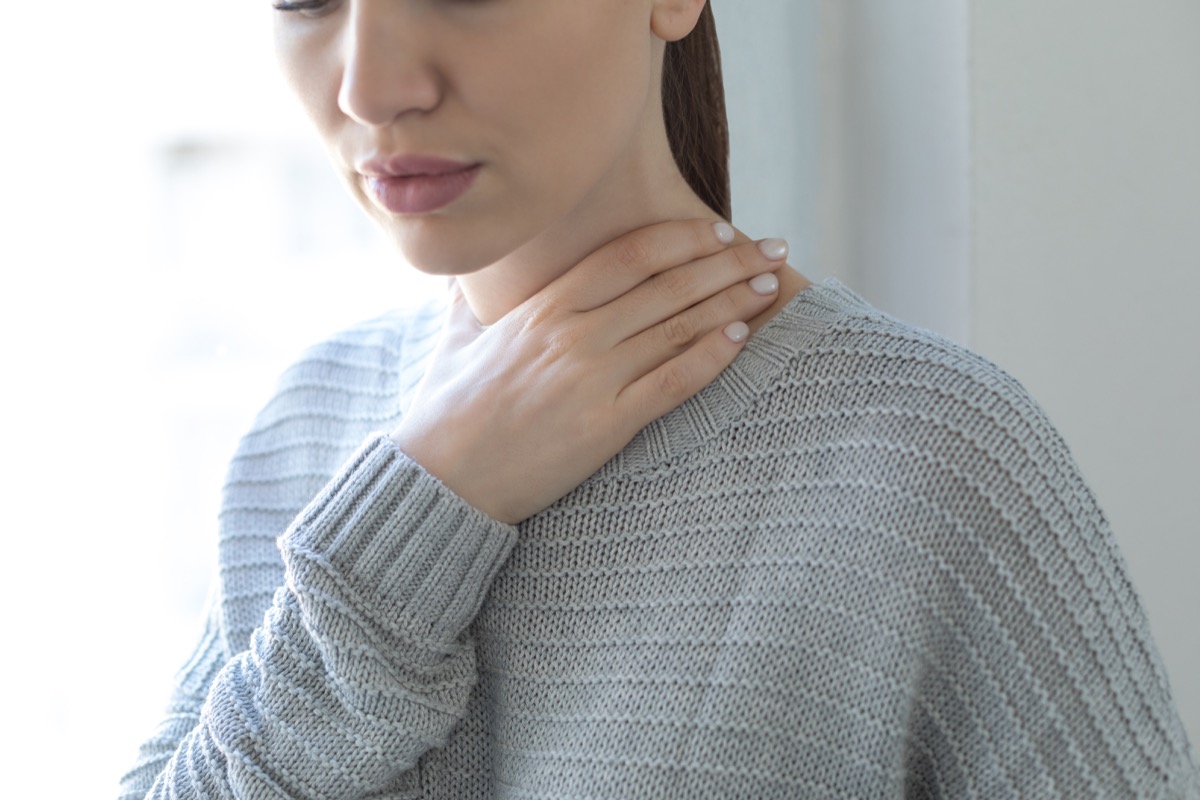 An even 50% of people with new COVID cases reported a sore throat. Like headache, sneezing and runny nose, sore throat has been in the top five most reported symptoms since the rise of the Delta variant last summer.
RELATED: Surgeon General Says These People Could Get COVID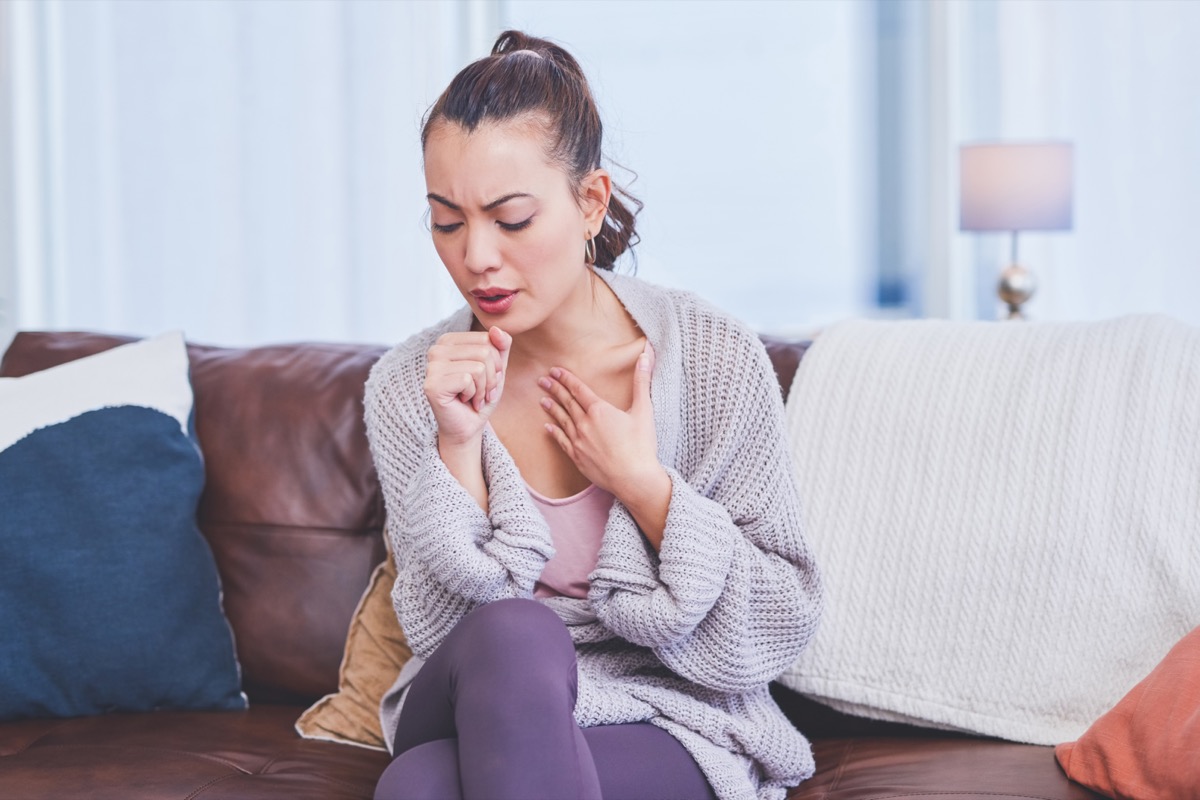 Once one of the most common symptoms of COVID, coughing is now the fifth most common, reported by 49%. Another previous hallmark symptom—loss of smell—sits below the top five at No. 6. Experts note that if you're unvaccinated, you are more likely to experience more traditional symptoms of the earlier strains of COVID than people who've gotten the vaccine.
RELATED: The #1 Way to Stop Memory Loss, Say Experts
Other Common COVID Symptoms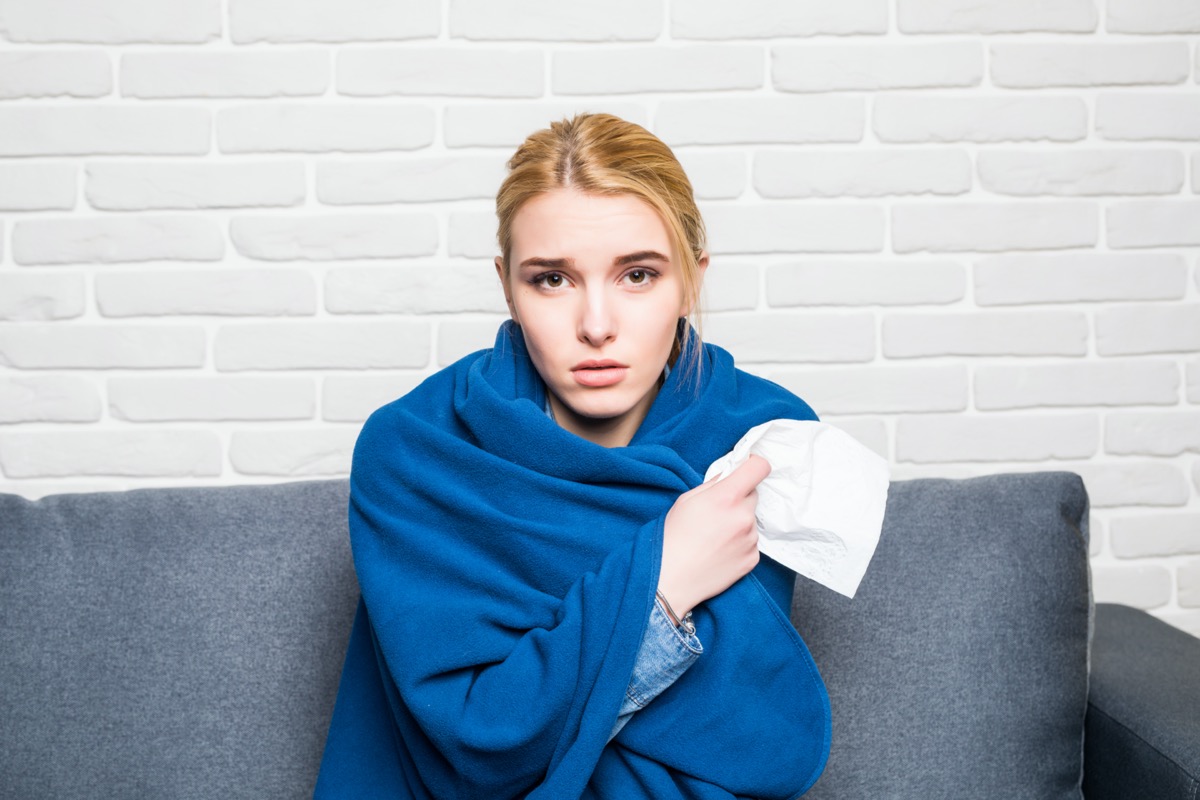 According to the CDC, the common symptoms of COVID-19 include:
Fever or chills

Cough

Shortness of breath or difficulty breathing

Fatigue

Muscle or body aches

Headache

New loss of taste or smell

Sore throat

Congestion or runny nose

Nausea or vomiting

Diarrhea
If you're experiencing any symptoms that are unusual, it's a good idea to get tested for COVID as soon as possible, even if you've been fully vaccinated.
RELATED: These 7 States Have "High Risk" COVID Now
How to Stay Safe Out There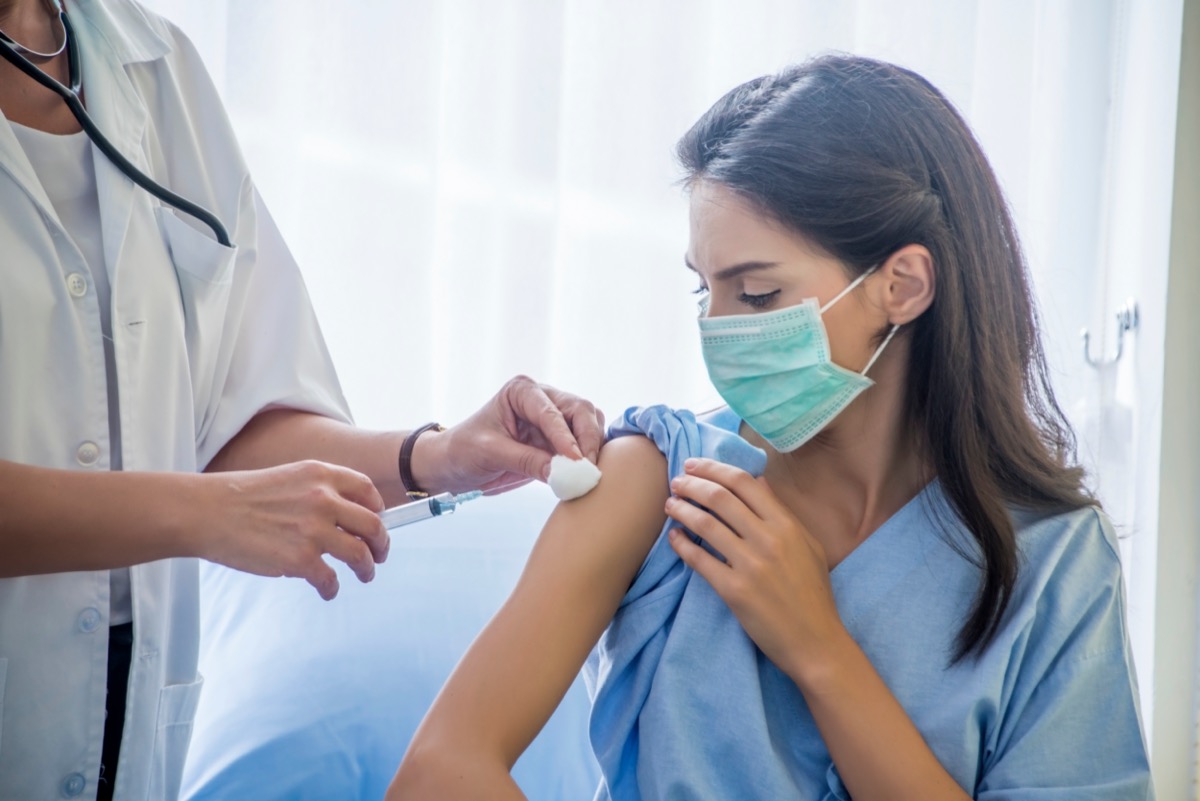 Follow the fundamentals and help end this pandemic, no matter where you live—get vaccinated ASAP; if you live in an area with low vaccination rates, wear an N95 face mask, don't travel, social distance, avoid large crowds, don't go indoors with people you're not sheltering with (especially in bars), practice good hand hygiene, and to protect your life and the lives of others, don't visit any of these 35 Places You're Most Likely to Catch COVID.
The post New Warning Signs You Have COVID appeared first on Eat This Not That.
Eat This Not That