Popeyes Just Launched a New Item That's Sure to Become a Customer Favorite
The Sides section of Popeyes' menu is growing again, with the launch of a new item that's sure to become a favorite among its loyal fans.
After discontinuing the Cajun Rice and Green Beans earlier this year, the chain's selection of side dishes seemed a little lackluster. But the situation is about to be remedied with a new addition that fits right in with the rest of Popeyes items.
RELATED: The Parent Company of Popeyes and Burger King Just Purchased This Beloved Sandwich Chain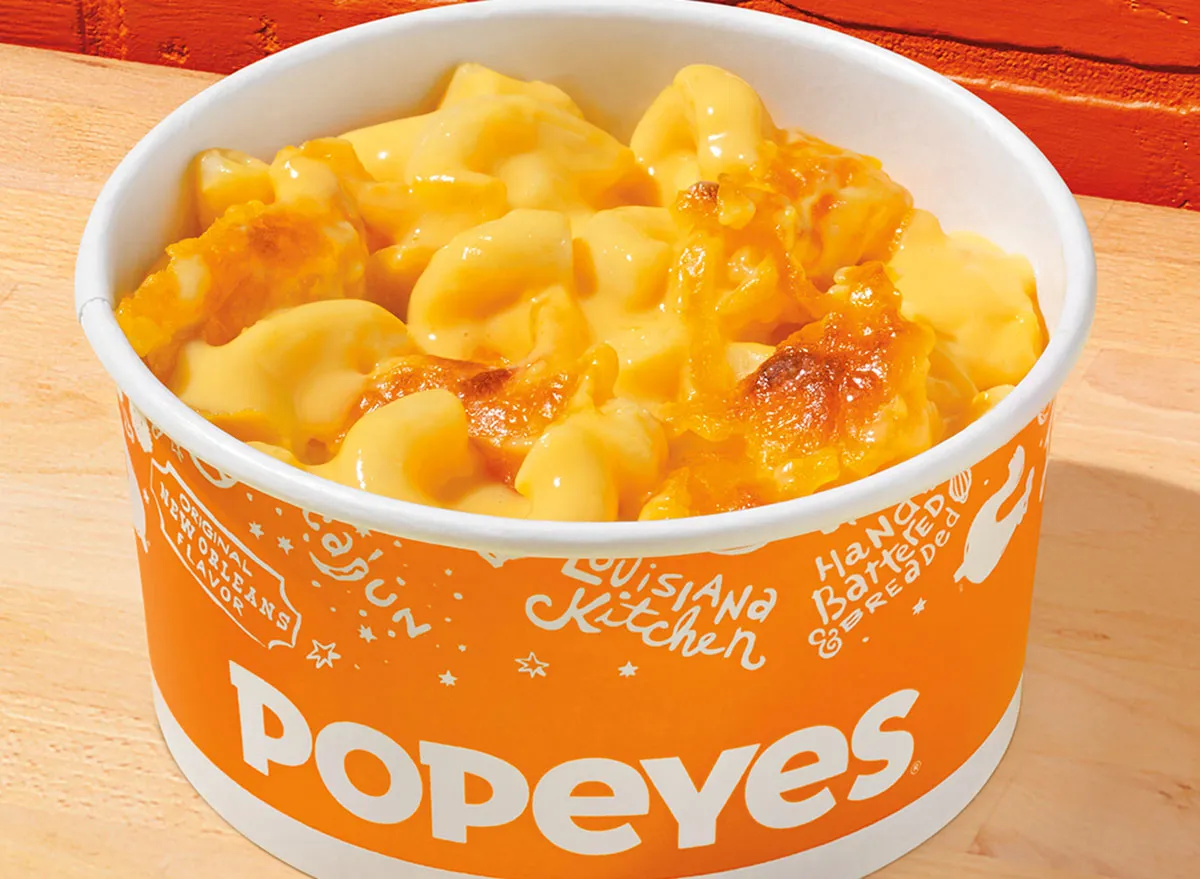 The chain just announced the launch of the new Homestyle Mac & Cheese, a craveable, creamy staple of Southern comfort food. And in case you're wondering how this version stacks up against your grandma's mac 'n' cheese, here's what's in it: noodles, butter, and lots of cheddar cheese, which then get topped with more cheese before going into the oven. So you can expect a velvety, cheesy interior with a nice golden-brown crust on top. According to the chain, it's supposed to taste just like homemade.
Beyond just being a perfect side dish to add to your Family Meal or a 3-Piece Chicken Meal, the Mac & Cheese could also play a more central role in your order. If you're craving pasta, you could order the Large as a main dish and add some chicken strips to that for good measure. Or go bolder and add it as a topping in your Spicy Chicken Sandwich—something Panera is doing with their Grilled Mac & Cheese Sandwich launched recently. In any case, this opens up a host of new possibilities in customizing your Popeyes favorites (and if you need a little inspiration, here's how others do it.)
The new Mac & Cheese will be rolling out nationwide this week, and will be available in stores and via delivery apps.
The Louisiana-style fast-food chain has been on an innovation streak recently. In July, it finally launched Chicken Nuggets nationwide. Then in October, it announced its first-ever collaboration with a celebrity, which gave us the Meghan Thee Stallion Hottie Sauce.
For more, check out:
And don't forget to sign up for our newsletter to get the latest restaurant news delivered straight to your inbox.
The post Popeyes Just Launched a New Item That's Sure to Become a Customer Favorite appeared first on Eat This Not That.
Eat This Not That