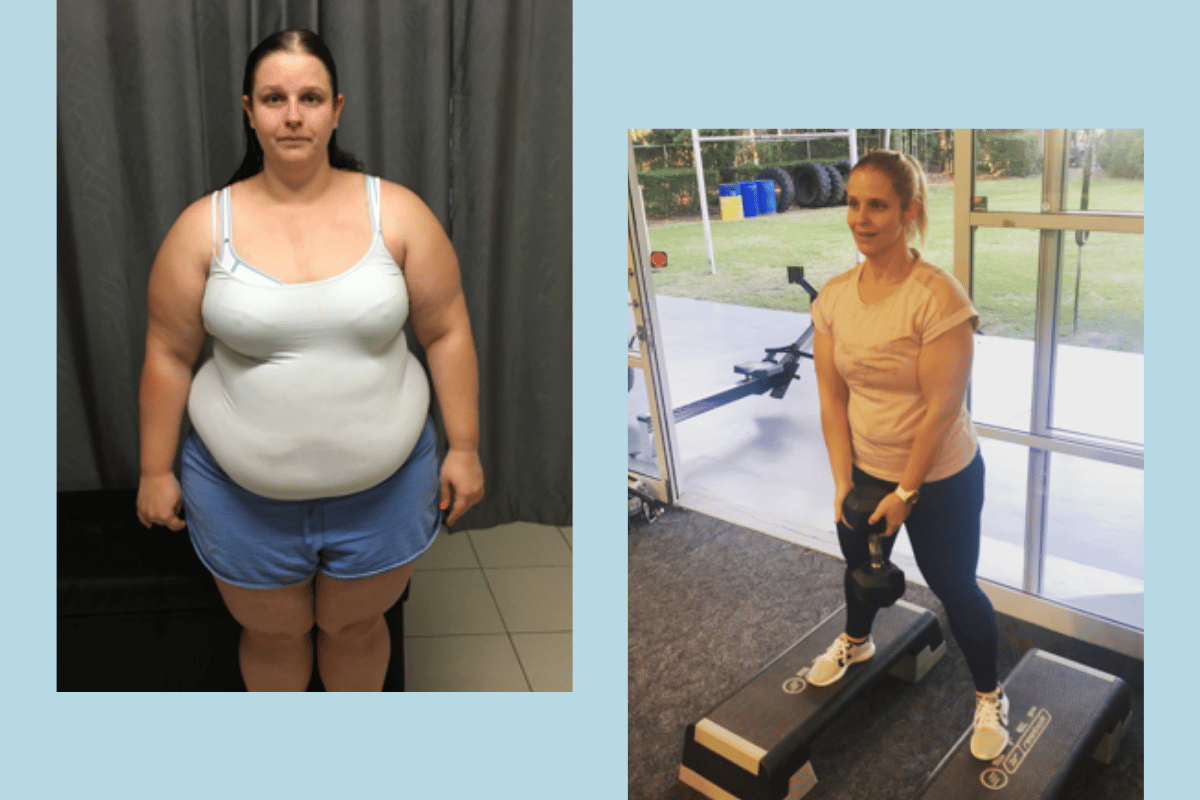 When Jean would wake up in the morning, she'd be in pain as soon as she stepped out of bed.

"My knees and my ankles, and my hips would all be aching as soon as I put my feet down on the ground," the Queensland high school teacher told Mamamia's daily news podcast, The Quicky.
"I was like, I need to lose weight. It's not an aesthetics thing... I'm in pain."
For the next two years, Jean, who was in her early thirties at the time, decided to do everything she could to try to lose weight.
"I spent two years exploring every other option that I could... And in fact, I started when I was in high school, because I knew that I was heavier than the other girls. I was at the gym six days a week. I was meal prepping every Sunday."
For Jean, part of her weight issues stemmed from past trauma she experienced as a child.
"I grew up in a household where I was abused, and part of that abuse was removing food to punish me. And then when I was removed from that home, I was nine and I went to live with my auntie and uncle who introduced me to a world of food and generally didn't really say no."
"I think some of my subconscious at the time definitely played into thinking 'You've got to eat, you've got to eat. What happens if you can't eat again? What happens if you get sent back to live with them again?'"
Eventually, after years of trying countless weight loss options, Jean decided to undergo weight loss surgery in 2017.
It was "the best decision" she ever made. But one that saw her face a new kind of judgment.
"It was mostly judgement [from other people saying], 'Oh, you had surgery? Well, why didn't you just stop eating?' And I'm like, well, that's not really how it works."
When dining out with other people, Jean also found others would watch how much she was eating after her surgery.
"Everyone watches you eat and what goes off your plate... So imagine going from eating an entrée and a main to eating the amount of food that a toddler would eat.
"They say that after you had surgery, the size of your stomach is equivalent to the size of a chicken's egg... So it was mostly about the amount of food that I wasn't eating, like surely 'we've watched you eat before, you're not full'."
"I stopped eating out with my friends because it was too hard to decide what you're going to eat when you got there. And then when you got there and you're paying $30 for a meal and you're eating three or four bites of it, or you do get resentful of it."
Jean's also been told that she somehow 'cheated' by losing weight through surgery.
"It's not cheating. It's really hard," she told The Quicky.
"As a person who was overweight, you were constantly thinking about food because you're like 'what can I have for my next meal? What am I going to enjoy?' And then as a person who's had weight loss surgery, you're still constantly thinking about what your next meal is."
"There's also things that I can't eat now because my stomach doesn't handle it that I used to eat before. It literally changes every aspect of your life."
On top of the weight loss surgery, Jean also had to undergo an abdominoplasty, to remove excess skin from her stomach, and her weight is still something she has to manage to this day.
"[Even though] I had surgery in 2017, I still have to see [my surgeon] every six months. I still have to take vitamins every day to make up my nutritional deficits. I still have to follow up on all of my blood tests and things every single month. It's a lifelong process."
To find out more about weight loss surgery, The Quicky spoke to an expert bariatric surgeon and a GP to find out why so many people look to it to lose weight and what stigma is involved.
Here's what you need to know.
What weight loss surgery options are available in Australia and how much does it cost?
Here in Australia, the most common types of weight lost surgeries are lap band surgery, gastric bypass and gastric sleeve surgery.
The Bariatric Surgery Registry managed by Monash University reports as of June 2020, out of more than 90,000 weight loss patients in Australia that they surveyed, 82 percent opted for gastric sleeve.
When it comes to the cost of these surges, it can depend on your individual circumstances, health cover and what you're opting to get done. But generally, weight loss surgeries can range from anywhere between $3,500 to more than $20,000, with a majority of surgeries done through the private sector.
It's a move Dr John Jorgensen, Bariatric and Upper Gastrointestinal surgeon, and Director of Bariatric Surgical Services at St George Private Hospital, says is "an absolute disgrace".
"[Weight loss surgery] is done in the public sector all over the world but in Australia it's done in the public sector in a very minimal volume. At the moment, weight loss surgery is really the only solution we have for severely obese patients and yet we're not allowed to offer it to people who are uninsured or don't have the money for it," he told The Quicky.
"The epidemiology of obesity is predominantly in people who don't have as much money. [So] it should be provided at big volume in the public sector... We've tried to lobby New South Wales Health [and] the federal government... but we've not made a huge amount of impact in the last 10 years."
Why do people decide on weight loss surgery?
There are a number of reasons why people opt for weight loss surgery, but Sydney GP Dr Brad McKay says most patients he's spoken to have "tried everything else under the sun and haven't been able to lose that weight."
"I will talk to patients when they've already gone through a bit of a journey and they're wondering about whether they should have it. A lot of the discussions that I have are about how they want to not have a heart attack soon and how they're wanting to lose weight so they're not getting terrible osteoarthritis in their knees."
"Gastric band surgery and gastric sleeve surgery are options that are really helpful for creating longevity and helping people to live their best lives... I don't think they're wanting a perfect body. They're not wanting to be on the cover of a magazine, but they're wanting to be healthy."
More women also choose to get surgery over man, despite the fact that there is a greater proportion of men aged over 18 who are overweight or obese than there are women in this country.
According to the Bariatric Surgery Registry, 78 percent of the people they surveyed who had weight loss surgeries were women.
"I think women are a little bit better at dealing with their health issues and I think there's also a bit of societal pressure," explained Dr McKay
What do we know about the stigma those who undergo weight loss surgery face?
Despite obesity being a major health issue in Australia, there's still a stigma surrounding weight loss surgery.
One way this presents itself is through funding in the health care system, says Dr McKay.
"The government has stigma against patients," he explained.
"We're we're living in an environment where we have capitalism and you can buy really cheap soft drink. And you're advertised with all of these junk foods and then the government at the end of the day goes, 'Oh, well, you're overweight and that's your own fault. And yet you need to afford surgery yourself, otherwise, you'll die and we're not going to fund it.'"
"I've had patients that have been digging into their super like that's one of the options for funding it."
"People are doing that because there's no government funding for bariatric surgery, it's got to be done on a compassionate basis for the worst of the worst [cases] in a public hospital. But the vast majority of it is private and it's just unaffordable."
Of course, there is also wider societal stigma attached to weight loss surgeries as well. But Jean says she prefers it to other judgment she's received about her weight.
"As someone who was obese, I know what it's like and the judgement that you get from society in general about being obese. I would rather have the judgement from weight loss surgery than that judgement."
"I'm so proud of the things that my body can do now. Like I'm still scared, because my brain still tells me 'you're the fat girl and you can't do that'. But then I go, alright, I'll do it. So I'm more confident in just trying things and giving something a go."