Once upon a time, a new chicken sandwich was coming out every week—and, actually, that time was just last summer. The fast-food Chicken Sandwich Wars of 2021 may have come and gone, leaving room for heavy debate amongst consumers, but recently it became clear that at least one chain still has its head in the game: Panera Bread.
For more, don't miss We Tasted 11 Spicy Chicken Sandwiches & This Is the Best One.
At the end of March, the sandwich and soup shop unveiled two rather stellar-looking chicken sandwiches. And not only do they look good, but they're already selling out across the country. According to a company spokesperson, Panera has sold over a million of these in just nine days.
The first, deemed the "Signature Take," puts a chicken filet atop a bed of greens and parmesan crisps, and then slathers the sammy's brioche bun with a new garlic aioli.
The Signature looks significant: greens cascade out over the bun, and the filet is thick and well-seasoned. Next to the other new release, the Signature Take definitely appears more appetizing.
The "Spicy Take," meanwhile, is "made for the spicy flavor aficionado"—or at least, that's how Panera describes it. This sandwich swaps out the parmesan crisps and replaces them with spicy cucumber crisps, and instead of a plain chicken filet, offers one that is absolutely doused in Panera's Spicy Buffalo Sauce.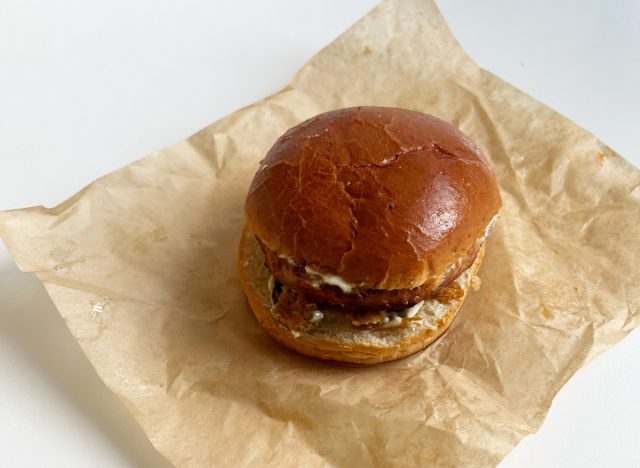 It's not a lot to look at. But the Spicy Take is a lot to taste, and I mean that in the best way possible. The semi-sugary bun pairs beautifully with the zingy chicken filet, creating a sweet-and-spicy combo that makes a great impression at first bite. As I continued to dig into the 'wich, I eventually hit the spicy cucumber crisps, which on my sandwich were piled in the center of the aioli-slathered bottom bun. For three or four glorious bites, I got bun, aioli, cucumber crisps, and spicy chicken in equal measure, all in one powerful punch. Those bites alone were enough to sell me on the sandwich.
However, the edges of the sandwich were less enticing. It was likely the way my sandwich was made, but there wasn't much else besides bun and chicken going on when you make it to the edges, making the experience a bit unbalanced.
Now, my Signature Take was executed better. Even though the middle bites were still the best, with parmesan crisps and aioli added into the mix, I still got lettuce, bun, and chicken in every bite. The only drawback, with the Signature Take? The flavor simply wasn't there.
Which brings me to my Honest Take on these new Panera releases: why couldn't they have just been one sandwich? The Spicy Take is memorable, exciting even, to taste, and the Signature offers that fully-balanced freshness that every solid chicken sandwich needs. We're a big fan of this foray back into chicken sammys, but unsure that Panera needed to pull a "pick two" here.
The post I Tried Panera's New Chicken Sandwich That's Selling Out Fast—Here's What I Thought appeared first on Eat This Not That.
Eat This Not That