If you've purchased ground beef within the last few months, you'll want to check your fridge or freezer.
On April 25, the U.S. Department of Agriculture's Food Safety and Inspection Service (FSIS) announced that Lakeside Refrigerated Services has recalled 120,872 pounds of ground beef products, due to possible contamination of E. coli O103. The beef was sold at Walmart, as well as under brands that are available at Whole Foods, Target, Winn-Dixie, and more.
Related: These Are Costco's Most Popular Items Right Now
The recall applies to ground beef products produced between Feb. 1 and April 8, which display the establishment number "EST. 46841" inside the USDA mark of inspection. This includes brands such as Marketside Butcher, Nature's Reserve, Tajima, Thomas Farms, SEG, and Weis. The complete list of recalled products can be found here, and the product label images can be found here.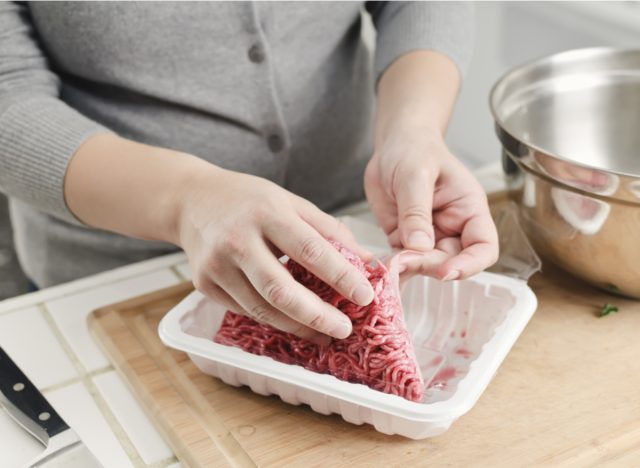 The ground beef was sold to retailers nationwide, including more than 1,350 Walmart stores across 17 states, Washington D.C., and Puerto Rico. The full list of Walmart stores that carried the products can be found here.
Although there have been no reported illnesses or adverse reactions, the FSIS urges consumers not to consume these products and throw them away or return them to their place of purchase. While symptoms of an E. coli infection vary, they often include diarrhea and vomiting. Most people recover within a week, but some illnesses can last longer and be more severe.
If you have any additional questions related to the recall, you can contact Lakeside Refrigerated Services at 800-493-9042 or customercare@lakesiderefrigerated.com.
This isn't the only recall that has impacted Walmart recently. Last week, the retail giant pulled Turkey Hill's Chocolate Marshmallow Premium Ice Cream from its freezers because the product might have contained undeclared peanuts. In addition, the grocery chain also recalled organic zucchini over concerns of Salmonella contamination.
The post Walmart is No Longer Selling These Ground Beef Products After a Recall appeared first on Eat This Not That.
Eat This Not That