Whether cracking a few cold ones on your back deck or cozying up with a warming stout at a pub in the fall, you gotta love a good beer. In fact, Americans reportedly drink about 6.3 billion gallons of beer every year.
But, as any consumer of domestic, imported, and/or craft beer knows, not all beers are created equal. And some beers simply aren't worth the price—whether they're overpriced for what they actually are (some bottles cost over $200!) or because of where you're buying them (ballparks and stadiums, we're looking at you).
Read on for our list of the most expensive beers and decide for yourself if such brews as barrel-aged high-ABV beers, ballpark pours, or day drinking at the airport is worth your hard-earned dollars. Plus, don't miss These Are the 25 Worst Beers in the World.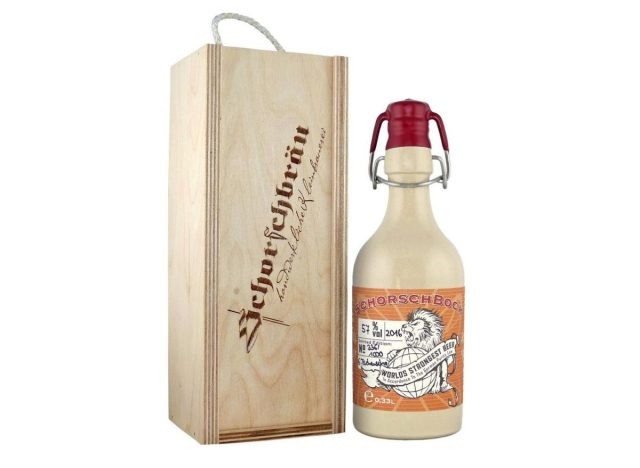 This beer might not be considered truly a beer to some, as its ABV is 57%, but the price of it is much higher. Schorschbrau brewery claims it's the "World's Strongest Beer" on the label and sells the bev on the market for about $300, according to Liquor.com. If you can drink like the Germans and you're willing to put up an insane amount of cash for a brew, go for it! Otherwise, skip this one and find a beer that you can sip on joyfully and with less guilt for your bank account.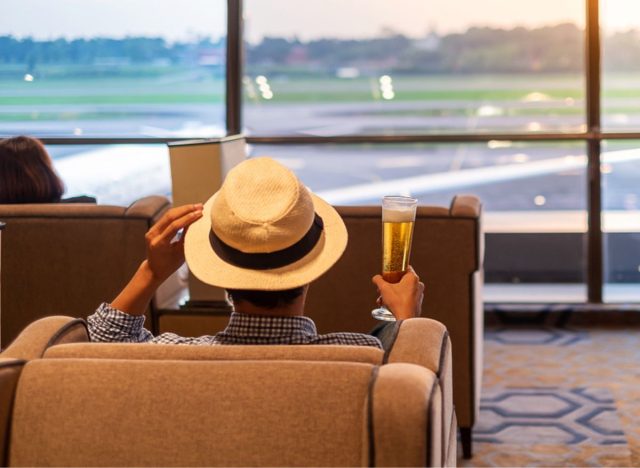 Recently, a tweet was posted by a traveler passing through Terminal C at LaGuardia airport in New York showing a picture of the drink menu at Biergarten. Beers ranged in price from $13.05 to $27.85. That's high even for an airport beer! The viral tweet ended up sparking change at the airport, and going forward, all concession prices cannot exceed more than 10% of "local, off-airport street prices."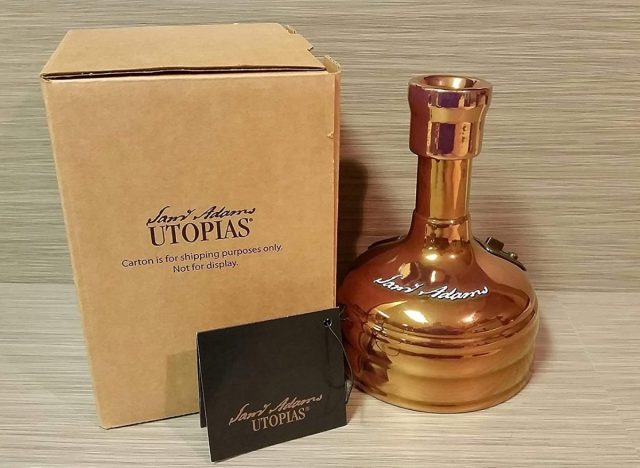 You've probably tipped back the somewhat ubiquitous Boston lager known as SAm Adams, but over the past decade, the brewery has also released expensive, limited-edition, barrel-aged beers called Utopias. The ABV clocks in at 28%, which is high enough to cause it to be banned in certain states. The price currently clocks in at an eye-watering $240 for a 25-ounce bottle.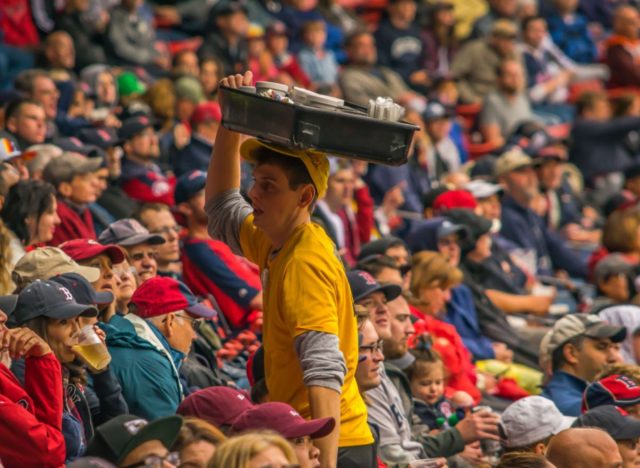 While Fenway doesn't have the most expensive beer overall (that honor goes to the NY Mets, who charge $11.75 for a 20 oz. beer), their 12-ounce beer for $8.50 is actually the most expensive by volume—a whopping 71 cents per ounce.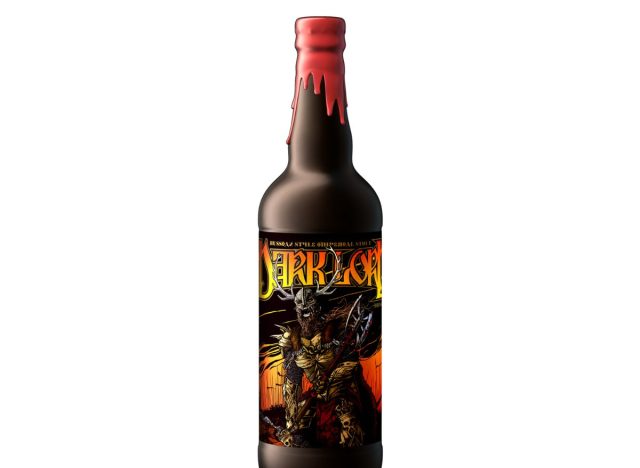 For $160, you don't just get two bottles of this Indiana brewery's Russian imperial stout, you get the experience of their famous Dark Lord Day, which is a frenzy of heavy metal music and day drinking. Plus, you'll get a Dark Lord Day tote bag!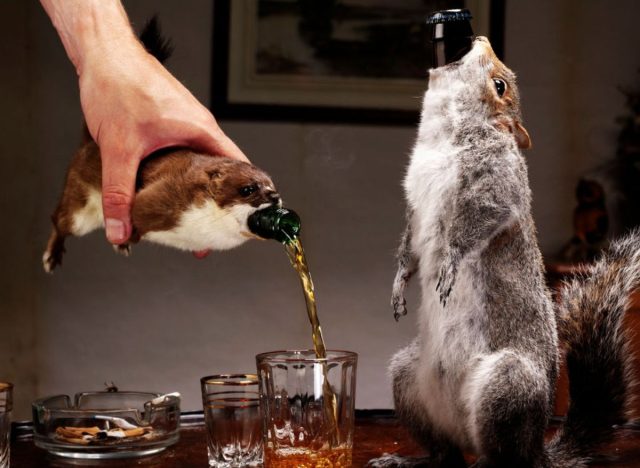 Drinking this unusual bottle is certainly a choice. Scottish brewery BrewDog's limited edition End of History has 55% ABV and is sold in bottles stuffed into the carcasses of taxidermied critters (like squirrels). When it's available, it retails for around $765 a bottle.
RELATED: 13 Best Light Beers for Beer Lovers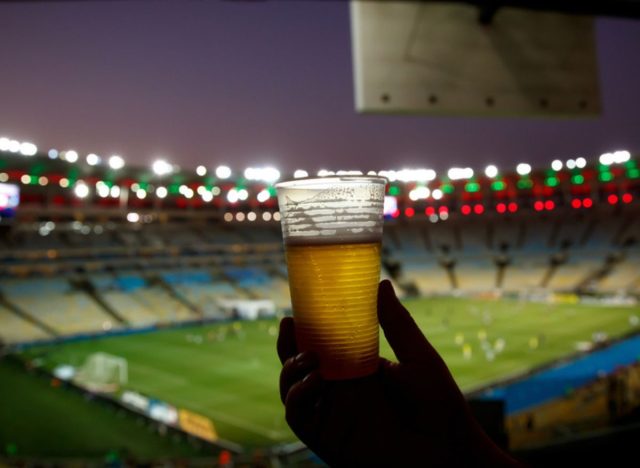 Let's be honest, if you're at the big game, you've probably already spent a ton of money. If you want to spend a lot more, head to the concession stands, because at the 2022 game at SoFi stadium in Los Angeles, a Michelob Ultra would have set you back $17. Craft beers set game-goers back $19, while draft cocktails ran $20.
Beer at the PGA Championship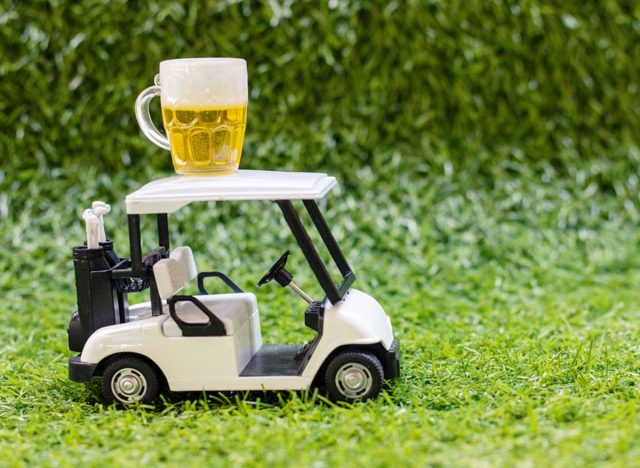 At the 2022 Professional Golfer's Association Championship, the beer prices were so exorbitant that former PGA Championship winner Justin Thomas felt he had to speak out. "$18(!!!!!!) for a beer… uhhhh what. Gotta treat the fans better than that!" Thomas wrote on Twitter.
RELATED: 12 Bizarre Beers You Never Knew Existed
Crown Ambassador Reserve Lager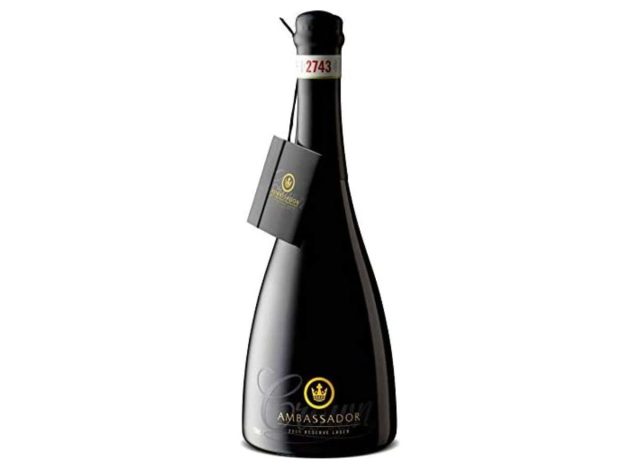 Packaged to look like a bottle of Champagne, complete with a fancy box, some think this hoppy 9.2% ABV is a delicious lager. But, is the limited edition bottle worth $70 to $800? If you get your hands on a bottle, let us know…
Beer in the United Arab Emirates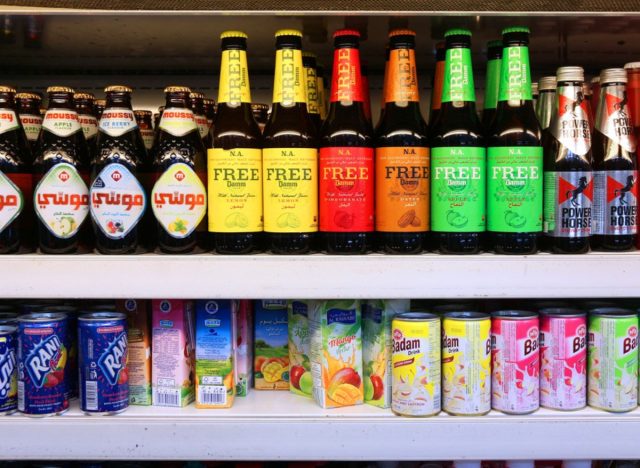 You've probably seen pictures of friends and celebrities partying in Dubai, but did you know that alcohol is very restricted in the UAE? In Dubai, though, tourists are able to obtain a temporary liquor license to consume alcohol. Unfortunately, a basic bottle of beer will set you back around $12.
RELATED: 9 Limited-Time Summer Beers You Can Only Buy Right Now
F1 is catching on in the States, and that means yet another sporting event at which you can drink overpriced beer. At the 2022 Miami Grand Prix, prices on everything were high, with some seats running over $1,000. The average price for a beer was reportedly $15, which is right in line with those astronomical ballpark and stadium prices.
A previous version of this article was originally published on Jul 21, 2022.
The post 11 Beers That Are Never Worth the Price appeared first on Eat This Not That.
Eat This Not That