There truly is nothing like cozying up with a warm, comforting meal on a chilly night. Sure, that usual slow cooker soup you love is always an easy go-to for moments like this. But let's take it up a notch, shall we? Instead of mixing together your usual soup, learn how to make one of these classic old-fashioned stews for a cozy night in.
While a soup is usually a mixture of items in a broth or a cheesy, creamy sauce, a stew cooks a bit differently—offering up just enough liquid for the items to "stew" and tenderize for a truly incredible flavor. And unlike a roast, which slow cooks a large cut of meat for a longer period of time, a stew cooks chunks of meat and vegetables that make it easier to scoop and serve when it's finally time for dinner.
So, break out your dutch oven and whip up one of these delectable old-fashioned stews! And for more warm, delicious recipe ideas that will make you want to curl up by a fire, be sure to check out 25 Cozy Soup Recipes That Are Perfect For Weight Loss This Fall.
Best-Ever Beef Stew in Red Wine
If there's any stew that you have to earn how to make, it's this classic beef stew. This old-fashioned stew has all of the traditional ingredients—beef, potatoes, carrots, onions—all simmered together in a delectable red wine reduction. It's the perfect cozy meal to enjoy for a blistery winter night.
Get our recipe for Best-Ever Beef Stew in Red Wine.
Smoky Spanish Beef Stew With Olives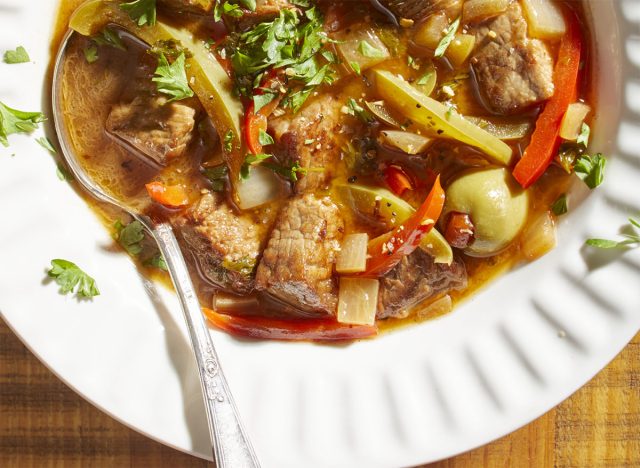 For a different take on a classic old-fashioned stew, this smoky Spanish beef stew has a flavorful, tangy twist thanks to pimiento peppers and olives. This is the perfect low-carb rendition of a classic beef stew if you're looking for something a little lighter.
Get our recipe for Smoky Spanish Beef Stew With Olives.
Veggie-Packed Minestrone With Pesto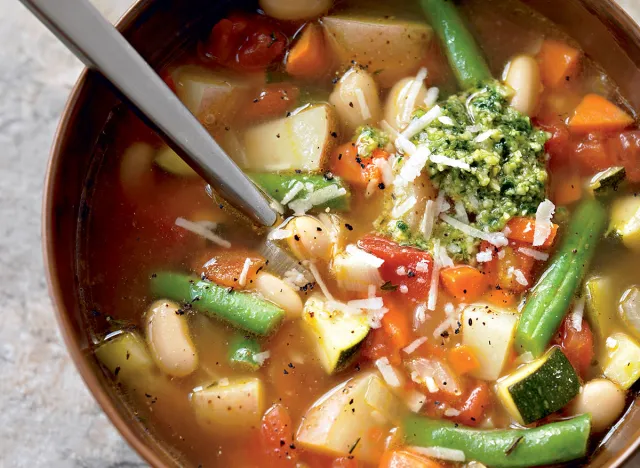 While some would categorize a minestrone as a soup, truthfully, because this vegetable dish has a hearty amount of vegetables and beans, it's more closely resemblant to a stew. This delectable dish was a go-to in Italy, even during ancient Roman times. If you're looking for a stew that will use up all of those vegetables and beans in your fridge and pantry, a minestrone is the perfect option.
Get our recipe for Veggie-Packed Minestrone With Pesto.
Another hearty Italian old-fashioned stew to learn how to make? Pasta e fagioli! Popularly known as a "bean stew" in Italy, this pasta and bean dish was also made popular during the time of ancient Romans. While our version is made with a pound of satiating ground beef, you could also make this lighter with a ground turkey, or even plant-based with a meat alternative—or just skip the meat altogether!
Get our recipe for Pasta e Fagioli.
Old-Fashioned Ham and Cabbage Soup with Potatoes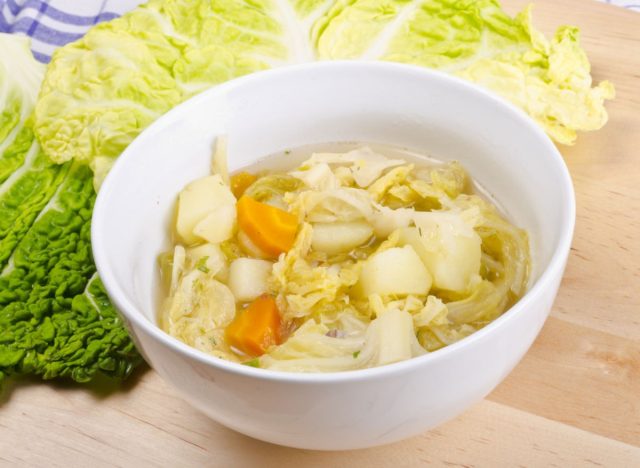 While beef stew tends to be what typically comes to mind when thinking of old-fashioned stews, cabbage stews and soups actually date all the way back to the Byzantine Empire, when the Romans first introduced cabbage to Russia. Though there have been many iterations of cabbage-based stews since then, this version of cabbage stew with ham and potatoes is a classic Irish culinary tradition originating around the 7th century. Be sure to use a quality stock for this recipe to boost the flavor of the potatoes, cabbage, and ham as the stew cooks.
Get the recipe from Healthy Epicurean.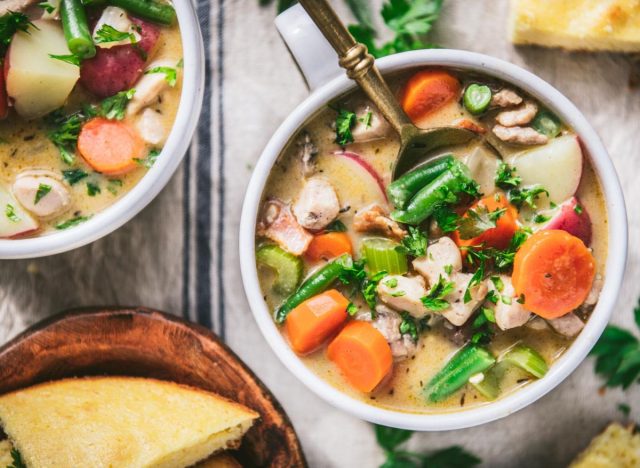 For a leaner take on classic old-fashioned beef stew, this chicken stew is a simple, hearty option that uses chicken thighs instead of sirloin roast or beef chuck. Throw in some bacon to give your stew some additional flavor you'll love in every spoonful.
Get the recipe from The Seasoned Mom.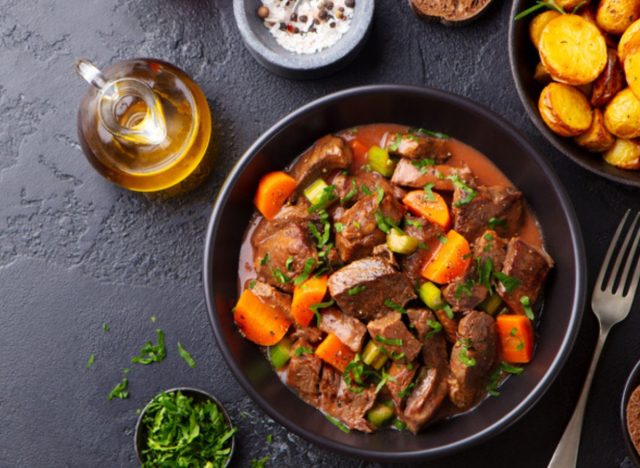 Looking for a vegetarian alternative to your usual old-fashioned stew? This recipe swaps out the beef for red lentils to still give you some satiating protein with every bite.
Get the recipe from Midwest Foodie.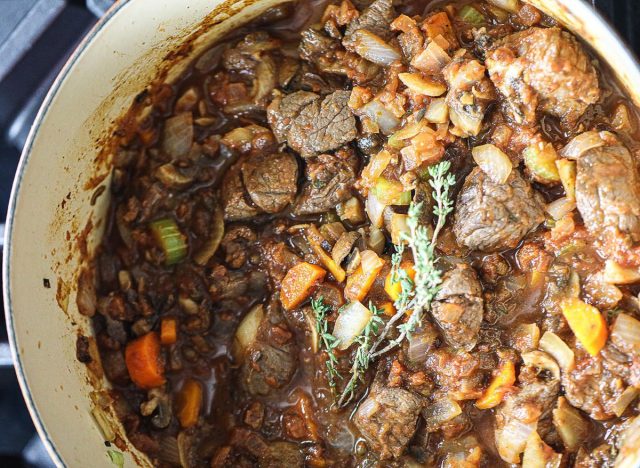 Tired of making the same old stew? If you're looking for a fun twist on the usual, same-old bowl of stew, this recipe combines an old-fashioned beef stew with puttanesca sauce for an extra pop of flavor.
Get the recipe from Eat Happy Kitchen Newsletter.
The post 8 Old-Fashioned Stews You Need to Know How to Make appeared first on Eat This Not That.
Eat This Not That