Think of Wendy's, and menu items like signature square burgers, fried chicken sandwiches, and the famous Frosty are likely what comes to mind. But with spring and its promises of warmer weather finally here, the chain could become the go-to option for customers who are starting to crave lighter, more refreshing fare.
Wendy's has just announced that it will launch three brand-new menu items—Grilled Chicken Ranch Wrap, Grilled Chicken Cobb Salad, and a Blueberry Pomegranate Lemonade—at stores nationwide. The items will be available starting on March 28, giving hungry customers two new options for a quick, light lunch and a drink to wash it all down.
RELATED: Wendy's Is Pulling the Plug On Major Plans to Ramp Up Delivery
The Grilled Chicken Ranch Wrap features diced grilled chicken, shredded cheddar cheese, romaine lettuce, and a creamy ranch sauce wrapped in a warm flour tortilla. Emily Kessler, manager of culinary innovation at Wendy's, said that a lot of time and thought specifically went into developing the ranch that graces this new offering.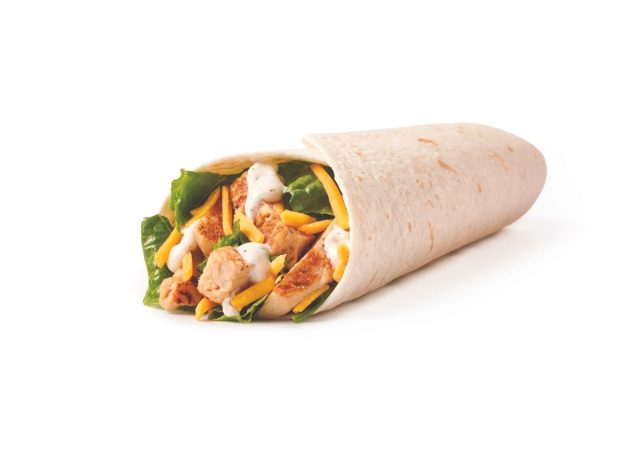 "Ranch is a favorite among our customers, so we searched far and wide to find that perfect balance between buttermilk and savory herbs to deliver the best ranch possible in the business," Kessler said.
Meanwhile, the new Grilled Chicken Cobb Salad features Applewood-smoked bacon, diced tomatoes, grilled chicken, crispy fried onions, and diced egg. For longtime Wendy's fans, this new option may bring back memories of the BLT Cobb Salad that the brand introduced in 2010 but has since pulled from menus. It also featured chicken, bacon, tomatoes, and chopped egg, but differentiated itself slightly from the new salad with blue cheese crumbles and an avocado ranch dressing.
Last but not least, the Blueberry Pomegranate Lemonade is a new spin on Wendy's classic lemonade with an eye-popping purplish hue. Fruit purees in Wendy's lemonade base give this drink blueberry and tart pomegranate notes, according to John Li, vice president of culinary innovation.
"We are always listening to our fans and introducing exciting new menu items to give them exactly what they are craving," Carl Loredo, global chief marketing officer for Wendy's, said in a statement. "Our Dave's Craft Lemonades have been a fan-favorite menu item for years, and our all-natural lemonade foundation allows us to bring flavor innovation like no one else in the business. We're excited to kick off the season and give our passionate fans another irresistibly delicious flavor with Blueberry Pomegranate Lemonade."
While Wendy's has just officially announced the debut of these three new items, customers got a sneak peek at the products when an apparent company memo detailing their launch leaked on Reddit last month.
The upcoming launch of the wrap, salad, and lemonade will come about a month after the fast food chain brought back its Crispy Panko Fish Sandwich just in time for the start of Lent. It also debuted its famous chili in grocery stores for the first time in February.
The post Wendy's Is Launching 2 New Lunch Items & a Lemonade Next Week appeared first on Eat This Not That.
Eat This Not That