There's nothing like a freshly grilled burger. You love the way it hisses when the cool patty first hits the sizzling metal grate and the rousing aroma as the smoke wafts through the air. Not to mention that rich beefy taste, especially when it's perfectly charred outside but still pink and juicy inside. Quick! Grab a napkin before that juice dribbles down your chin.
Hamburgers are the second most popular grilled food in America, ranking only behind steak, according to Statista. It's one of the quintessential flavors of summertime.
To get a jump on the upcoming ground-beef onslaught, I hit up several of my favorite grocery stores—Costco, Trader Joe's, Whole Foods, and Wegmans, among others—in search of the most tantalizing, top-quality burger patties available.
My local Costco doesn't sell fresh pre-made patties, so I opted for the massive five-pound bag of frozen Kirkland Signature Grass-Fed Beef Patties. For a proper comparison, I also grabbed a pack of similarly frozen grass-fed beef patties from Whole Foods. Additionally, I rounded up four packages of fresh patties, including two specialty offerings from name-brand butchers, which are both available from various retailers.
Then I took this substantial haul over to a friend's home, where we lightly seasoned each patty with kosher salt and cooked up every variety on his piping-hot charcoal grill. A small group of eager tasters stood by, ready to sample. I followed up with some additional testing later on, using an outdoor electric-powered grill.
The mission: to find the best-tasting, most dependable, most fool-proof burger for summer. That last part is especially important, because when grilling season is in full swing, and your backyard is overrun with warm-weather revelers, the last thing you need is a finicky foodstuff that requires your undivided attention. This is your barbecue, after all, and you deserve to have a little fun, too.
Dust off the ol' grill-master apron and break out your trusty spatula, as I reveal the results of this store-bought burger taste-test.
RELATED: 8 Store-Bought Burgers That Use 100% Beef
The Organic Meat Co. 100% Organic Beef Burgers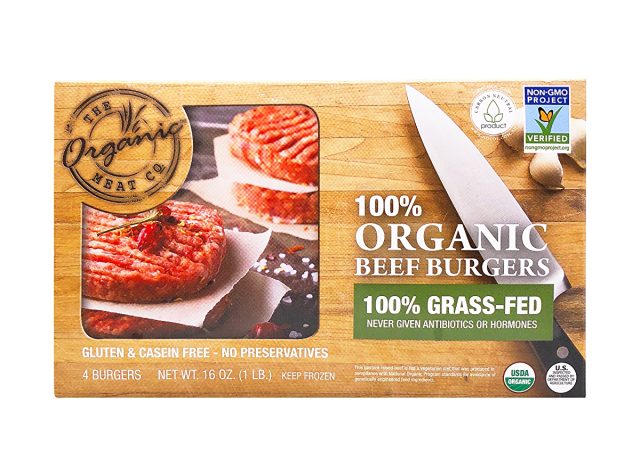 I liked the looks of this one-pound pack of frozen burgers that I picked up from Whole Foods, priced at $9.99. The package includes about every conceivable stamp of approval: USDA Organic, non-GMO, carbon-neutral, gluten-free, Global Animal Partnership-certified, Safe Quality Food-certified. According to the manufacturer, the cattle is raised without antibiotics or hormones and freely roams pastures on family-run farms.
That said, it is a frozen burger—and looks like it, too. The 4-ounce patty comes out of the box in a grayish pink color and feels even more solid than other frozen patties. But it cooks up quick and the modest size matches up perfectly with your standard hamburger bun.
It's also arguably the healthiest option in this survey, with just 220 calories and 17 grams of fat per serving. It's perfectly palatable, too, but your barbecue truly deserves an even beefier option this summer.
Costco Kirkland Signature 100% Grass-Fed Beef Patties
Costco sells several kinds of burgers under its house brand Kirkland Signature, including regular ground beef, lean, and sirloin options. I chose the grass-fed beef patties for so many reasons. They come in a party-friendly, 5-pound bag, containing 15 pre-made patties, for $24.99.
Despite being stuck in cold storage for who knows how long, the burgers still retained their proper pink hue. And they are bigger than the prior patties at a third of a pound. These patties came off the grill nicely charred and tasty enough, albeit a little chewy and less juicy than other varieties. "You can tell it's frozen," one taster commented.
Trader Joe's Butcher Shop Ground Beef Patties
I've had good luck in the past with strip steaks from Trader Joe's, so I was eager to try the specialty retailer's fresh ground beef patties, sold for $6.49. The label indicates a 80% lean-20% fat ratio, which is pretty common among the various burger brands out there.
Of all the fresh patties I tested, these were the smallest at about 4 ounces each, leaving them perhaps more vulnerable to overcooking. The burger had a nice hearty flavor, but turned out a little more well-done than I typically like. On my subsequent second try, I kept a closer eye on this one, and it turned out better. Still, a thicker patty is probably a safer bet.
Schweid & Sons Katana Blend Wagyu Beef Patties
You hear a lot of hype about the marvelous marbling of Wagyu beef, which made me curious to try this blend from Schweid & Sons, which retails for $12.99. Made from 100% American Wagyu with a 75% lean, 25% fat ratio, these burgers are the fattiest of the entire haul: 38 grams per patty.
They did not char as nicely as other patties that cooked right alongside them. And while I liked the strong, unctuous flavor, other tasters were put-off by the "mushy" texture.
Pat LaFrieda Short Rib Blend Beef Burgers
In the world of butchery, there is perhaps no bigger name than Pat LaFrieda, who famously supplied the special burger blend that launched Shake Shack. His company now supplies various burger styles to supermarkets nationwide, so I was very keen on testing out his short rib blend, priced at $12.99 from my local Urban Market.
This burger did not disappoint. At a full 6 ounces, it's the biggest patty I tried and attained the nicest char of all. It tasted rich and delicious, with what one taster described as a "steak-y texture."
Wegmans 100% Grass Fed Angus Beef Patties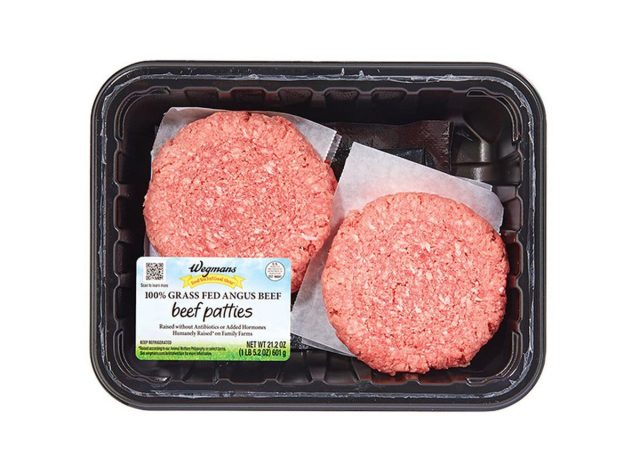 If you don't live along the East Coast, where the European-style market Wegmans reigns supreme, then I feel bad for you, because these burgers were hands-down the best of the bunch. The four-pack of patties, sold for $11.49, proudly carries the retailer's trademark yellow "Food You Feel Good About" banner, indicating no artificial flavors or preservatives. And the beef comes from family farms that adhere to Wegmans' animal-welfare standards, according to the store's website.
Beyond all the ethics, this burger is just plain good. Though lighter than the LaFrieda variety, the patty is still quite thick, weighing 5.4 ounces. My fellow tasters and I tried the Wegmans brand twice. Both times it cooked up perfectly, outwardly charred with a moist pink center, tasting luscious and super juicy.
Remarkably, Wegmans uses a leaner blend than the others: 85% lean, 15% fat. Normally, this should make for a drier burger. However, the retailer says this blend "makes the most flavorful burgers." In this case, I concur. When it's your turn to fire up the grill this season, the Wegmans burger should be your move.
The post I Tried 6 Store-Bought Burgers & This Is the Best for Summer Grilling appeared first on Eat This Not That.
Eat This Not That